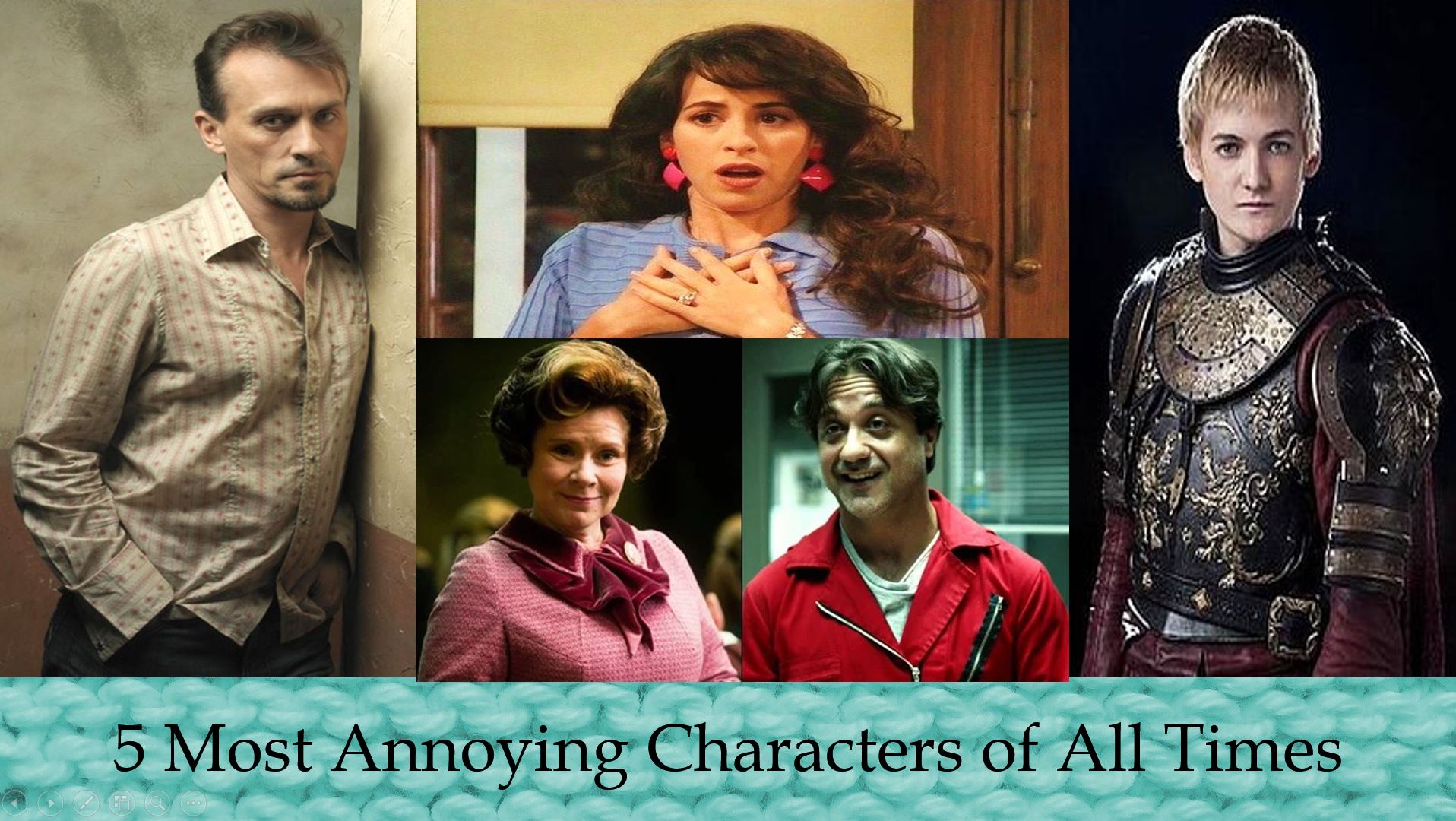 5 Most Annoying TV Characters of All Time
I am sure I am not the only one who has been told that the character (from the TV) that I like is 'fictional/ not real'. In fact, I have also been advised to stop brooding over the character or else he/she might settle in my head. Well, we all develop a liking for characters and that's quite natural. Whether is it Jon Snow (Game of Thrones), Abhishek Tripathi (Panchayat) or Naomi(The Expanse)- most characters touch our heart because of their grey character- the mix of their vulnerable, selfish and selfless sides. But there are certain characters who stick with us throughout the show even when we do not want them around. Irksome that they are, they often fill us with disgust and annoyance but we are helpless as we cannot cut their part from the story. Here is a list of five characters that I find most annoying/ disgusting in the order of their ranks.
'Tea Bag' from Prison Break
Tea Bag (Theodore Bagwell) is shown to be a suave yet crafty prisoner who doesn't miss any opportunity to vex Michael Scofield. He loves creating trouble and being a part of that chaos gives him pleasure. Had it not been for him, Michael's plan would have had one glitch less. But he keeps coming on the screen to irk the viewers. There is no doubt that he is smart and knows what he does, yet his evil motives often come in the way of the smooth run of the show.
'Janice' from FRIENDS
Who doesn't remember Janice? With the hyena laugh and the hyponasal speech, she had the calibre to even annoy the fly on the wall. The more we wished for her to disappear from the show, the more inclination Chandler showed in bringing her back. She is strong and determined but that goes in the wrong way, for she uses these qualities to pursue Chandler and fill the air with insolent vibes!
'Doloris Umbridge' from Harry Potter and the Order of the Phoenix
Umbridge is one character in Harry Potter who is nasty and is not liked by anyone. She is a stout witch who possesses a certain set of skills yet finds pleasure in undermining others using her sardonic remarks. Do not believe her simpering voice because that is the facade that she puts up in order to come across as warm and genial. In reality, she is the exact opposite of that.
'Joffrey Baratheon' from Game of Thrones
Game of Thrones is known to have characters that can go to any extent to inflict pain upon others. You have Ramsay Bolton, Stannis, Peter Baelish and Cersei Lannister as some names among those characters. But one character who tops this list and will forever remain hated is Joffrey Baratheon, Cersei's son with Robert. He is incapable of being a ruler yet pretends to be the strongest. He is mean, impulsive and doesn't possess the sense of right or wrong. He mistreats others and his actions are often guided by contempt.
'Arturo' from Money Heist
The most disgusting characters that I have come across is Arturo Roman from Money Heist. He is cunning and finds pleasure in defying the robbers in the Royal Mint. Having cheated on his wife, he doesn't show an ounce of remorse and wishes that his lover will abort the child. He pretends to be the beacon of hope for all the hostages and when the time comes to take the lead, he takes ten steps back. He is imbecile and a pervert. He even rapes a girl.
So here is my list of 'most annoying characters'. If you have other characters in mind, let me know in the comment section.