Book Review: The Ammuchi Puchi by Sharanya Manivannan and Nerina Canzi
The Ammuchi Puchi
Author: Sharanya Manivannan and Nerina Canzi
Genre: Children's book
Publishers: Penguin Publishers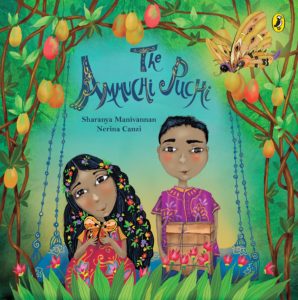 Area A: Text
'The Ammuchi Puchi' narrates the story of Aditya and his little sister, Anjali. They love listening to their grandmother, Ammuchi's, horror stories. They are not scared of the mysterious ghost in the tree, but they love how their Ammuchi expresses all emotions making the story come to life. When Aditya turns 10, Ammuchi passes away, leaving the two kids yearning for their her love. The story illustrates the truth that death and grief are part and parcel of nature. It is only in the little things that we find joy and solace just like how Anjali and Aditya found in the mystical insect.
'The Ammuchi Puchi' teaches us not to cork up beliefs and feelings. At times, it is this belief that helps us move on and look out for the silver lining in every dark cloud.
Area B: Illustrations
The illustrations form the key feature of the book. Kudos to the artist who has presented such immaculate and colourful pictures.
Area C: Characterization
The main character of the story is Aditya who is quite mature for his age. He is sensible but is misunderstood by his parents. His personality is relatable because, at a tender age of 9-10, children tend to wander in a world of their own. There are things that they believe are true but it takes a lot of convincing and adequate evidence to get the elders to believe them.
Though this story is fictitious, yet the essence is meaningful. Buy this book for its vibrant pictures and lessons for life.
Buying Link: Amazon