Book Review: Fun with English Series by Sonia Mehta
Fun with English Series
Author: Sonia Mehta
Genre: Children's book (Academic)
Publishers: Puffin Books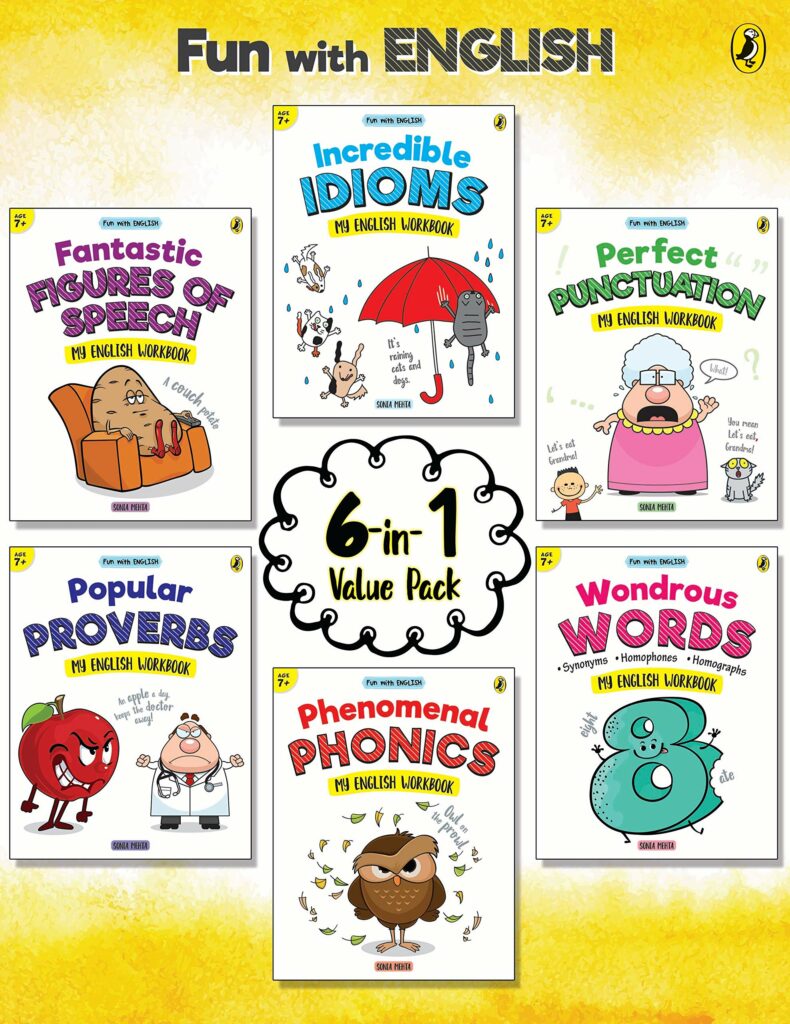 English is said to be a funny language. The spellings, grammar, phrases-clauses, proverbs, idioms and so many other aspects of the language make it all the more difficult. For children, understanding the basics of any language is very important. Well, understanding the dynamics of a child's brain, Puffin Books have come up with 'Fun with English' series that will enable the students to learn the basic concepts of English and also have fun at the same time.

There are six books in this series, each aiming to hone a different skill. Very colourful and interactive, these books cater to the listening, speaking, reading and writing skills. At the same time, these books help in building the concept of grammar, vocabulary and spelling.
Popular Proverbs: This is the first one in the series that focuses on 'Proverbs'. The book provides a list of common English proverbs in the beginning and then numerous activities that can help the kids learn the proverbs and understand their meaning as well. Picture-based activities are really interesting.
Fantastic Figures of Speech: The key element of good communication is the command of the language. The second most important element is the knowledge of expressing ideas using the correct words- words that can inspire the readers to think and interpret. Figures of speech are the most essential ingredients used for creative writing. This workbook introduces common and easy figures of speech like Alliteration, Personification, Metaphor and Simile. The best part of this workbook is the activities that make the difference between Metaphor and Simile clear.
Perfect Punctuation: Punctuation is the garment of the language. If not taught properly at a young age, it might remain baffling for the rest of life. This workbook introduces various punctuation marks and their usage and provides enough worksheets for practice.
Incredible Idioms: This is an amazing attempt to learn the words or set of words that can give expression to the writing. Idioms are important and learning their correct usage is even more important. With the help of jumbled words, puzzles and picture activities, this workbook provides enough worksheets for practising idioms and learning to use them frequently.
Phenomenal Phonics: Filled with plenty of brain teasers, this book is a storehouse of activities that will help you associate the rhyme and sound of various words and thereby aid in learning spellings.
Wondrous words: Last one in the series, Wondrous Words is the most basic book that focuses on homophones, homographs and synonyms- all three forming the basis of sentence formation.
Overall, this series is good. It will definitely come handy to the parents whose babies are in 2-3 grade or even younger. They will be able to empower their kids and help them grasp English concepts easily.
Buying Link: Amazon
Popular Proverbs | Fantastic Figures of Speech | Perfect Punctuation | Incredible Idioms | Phenomenal Phonics | Wondrous Words