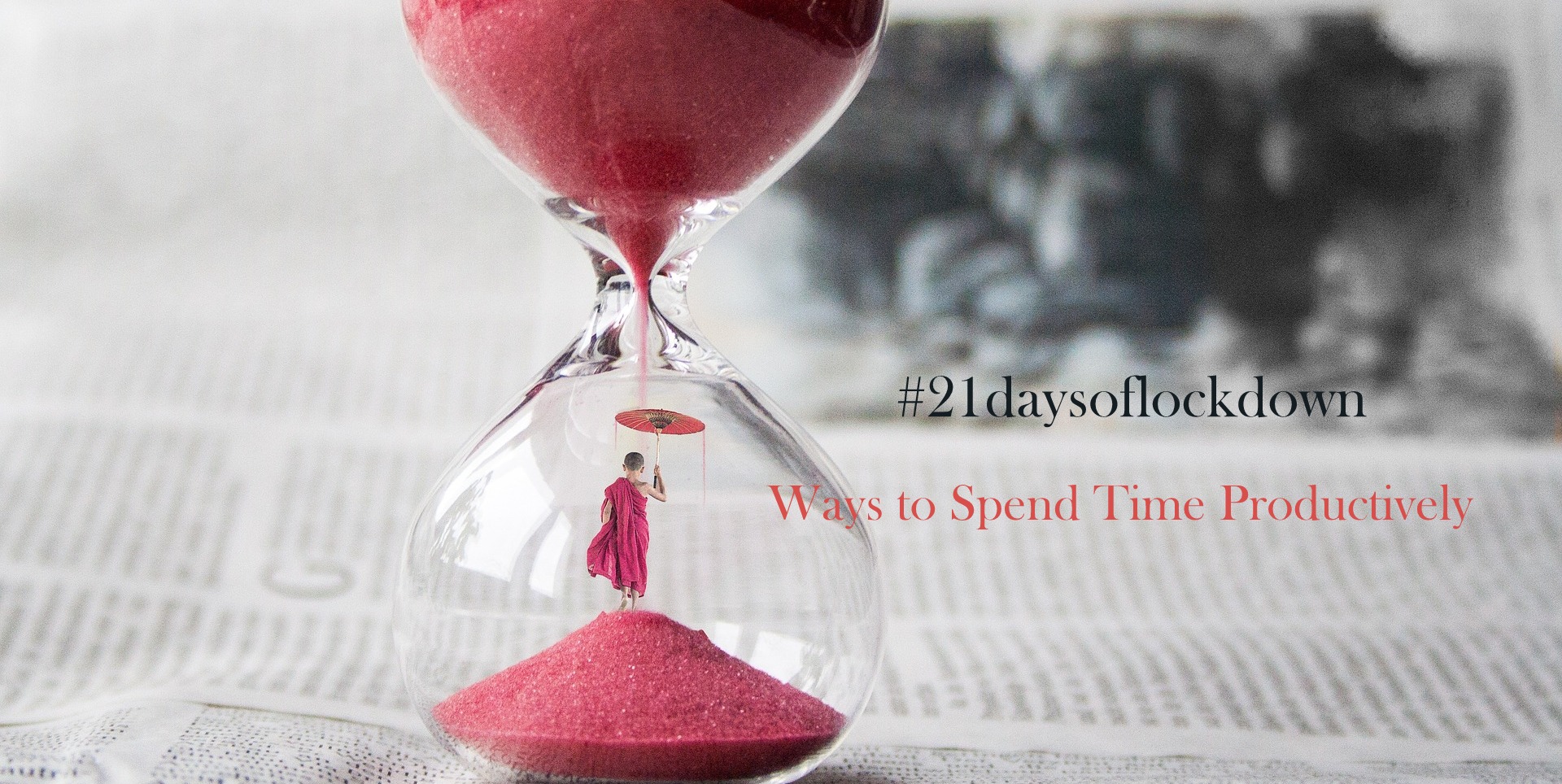 5 Hs to Make Your Hibernation Period Productive
Before I even begin, I promise to keep this post short. Most of you have been asking me about the things I am doing at home to spend time productively. And what would be a better time than this to write about the options I have!
I follow the concept of 5 Hs. After making a list of things that I have been doing for the past few days, I came up with this concept. It is feasible and can be adopted by anyone. To make it clearer, here is a pictorial representation of the activities that can help you remain productive during the (figurative) hibernation period.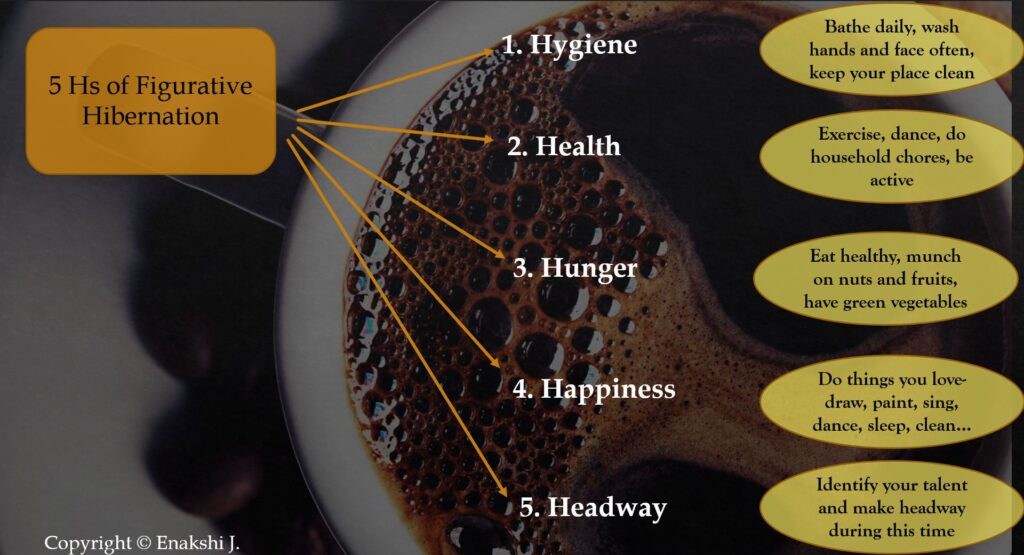 To understand better, here is a descriptive note on the five Hs. if you follow these five habits, you shall not regret these 21 days of lockdown. In fact, you shall hold chin up once you have conquered this free quarantine time successfully.
HYGIENE
Knowing fairly well that hygiene is of utmost importance at the moment, it is imperative to keep our hands and body clean. Therefore, ensure that you shower daily and keep washing your hands with soap for 20 seconds at regular intervals. Avoid touching your mouth or nose frequently.
Other than this, it is also important that you keep your place of stay clean. Here are a few tips to get you going:
– Make bed within one hour of getting up
-Sweep and mop the floor daily as this will prevent the dust from accumulating on the things you use
-Wash utensils with water before cooking in them
-Wash utensils immediately after any meal to avoid piling up
-Change clothes daily
-Wash clothes twice a week and dry them in the sun
-Clean the window panes, fans, curtain rods and lofts once a week
-Clean doorknobs and switches daily
HEALTH
Our health might be compromised if we stay indoors without indulging in any physical activity. Therefore, it is good to exercise at least 30 minutes every day by alternating the workouts. I have been doing pilates workout and I end it with the plank. This keeps me active throughout the day. Other than this, I make sure that I do not sit for long hours. Even when I have to work on my laptop, I ensure that I get up frequently to stretch my legs and my back. Here are other tips to get you going:
-Do household chores- that will help your body be in motion
-Take a walk for 15-20 minutes on the terrace
-Do zumba or aerobics if exercise is something that bores you
HUNGER
We all will agree that without food, there is no joy in spending time at home. But mindful eating habits will go a long way in shaping your health positively. Thus, it is imperative to include green vegetables in your diet, avoid junk food, avoid bad fat, intake proteins, balance your diet with enough fibre and stay hydrated. I am not a nutrition expert. Hence, I suggest that you consult an expert before charting out your diet plan.
HAPPINESS
We all would have wished at least once to have more off-days than working days. Well, here is our chance to indulge in things that give us happiness. It can be dancing, cooking, drawing, sketching, playing, watching television, singing, writing or sleeping. Do the things that give you pleasure and relieve your mind from all the stress. Even not doing anything and just staring at the walls is known to be therapeutic at times.
HEADWAY
For this, I would like to give my example. I like to write. And thus, I am making full use of this time to hone my skills. Those of you who like to cook, experiment with the recipes. Those who like to draw, challenge your craft. Just take your art a level up and practise.
I feel that if you keep these 5 Hs in mind, spending time in hibernation will turn into a win-win situation and you wouldn't be left whining about wasting time at home!
I hope this helps. If you have other ideas, drop in the comments section.