Book Review: Dividing Lines: Contours of the India-China Discord by K. N. Raghavan
Dividing Lines: Contours of the India-China Discord
Author: K N Raghavan
Publisher: Leadstart Publishes
Rating: 3/5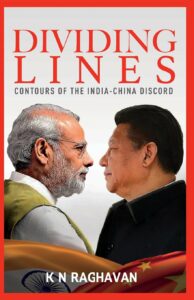 The Sino-Indian war is noted for its deadly aftermath. Fought under harsh circumstances and on rough terrain, this battle came to a halt when China pronounced ceasefire on 20th November 1962 and retreated to its claimed 'line of actual control'. Amidst a lot of bloodshed and decimation, the alliance saw a turbulent phase thereafter. 'Dividing Lines' is an account of the events that led to this war and the events that followed.
Written with an unbiased point of view, this book contains a lot of information that is still not available in the public domain. The author's prowess in presenting the facts clearly and differentiating them from fiction is what makes this book pass the muster. While the Chinese authors described this month-long war as a passing phase, they also abstained from providing the necessary details. However, this book tries to capture every essence of this war which we, as citizens, should be aware of.
Crisp narrative and the knack of the language of officialdom, Dividing Lines provides background for various catastrophes that have befallen the country.
Overall, this book does not refute any claim but throws light on the sequence of events with an objective approach. An interesting book that will help us understand the border issue with much ease!
Best wishes to the author!
Buying Link: Amazon