Book Review: Skill Builder Maths by Sonia Mehta
Skill Builder: Maths
Author: Sonia Mehta
Genre: Children's book (Academic)
Publishers: Puffin Books
The study of mathematics, like the Nile, begins in minuteness but ends in magnificence.
Charles Caleb Colton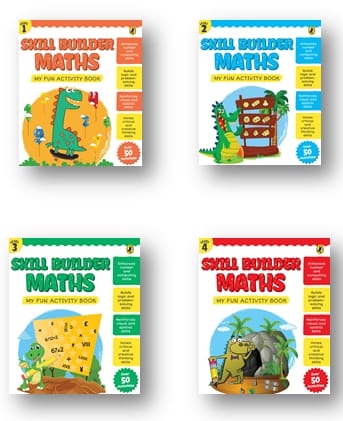 Mathematics is a vast subject. It is not only limited to understanding numbers and letters but also involves computing skills, logical thinking, visual skills, spatial skills and also creative skills. Puffin Books, yet again, have come up with a new series of books that aim at honing all these skills.
There are four levels and each level deals with different kinds of problems.
Level 1: This book focuses on the basics of addition, subtraction, division and multiplication by exposing the children to reasoning-based questions. Using coloured pictures and interesting titles, this book will definitely be liked by young readers.
Level 2: This book deals with time problems, roman numerals, shapes and sizes, quantities and introduction to units as well. But do not mistake this book for a theoretical one. It is power-packed with activities and interesting puzzles that are so well laid out that children will be drawn towards them.
Level 3: This level goes one step up and capitalizes on the knowledge of time and fractions. Again, this book has a lot of interesting activities that help in honing the skills in an appealing way!
Level 4: This book deals with the multiples, factors, profit & loss, word problems and more. I think this really will help the children prepare for Middle School Mathematics.
Overall, this series is a good bet. I would recommend this book for all the parents who want their children to be exposed to creative and collaborative ways of learning because rote learning will not help the children survive in the competitive world.
Best wishes to the author!