Demanding Yet Beautiful North Sikkim- Part III of Sikkim Tour
'Please, show yourself,' I beseeched.
I could hear them smile. They were having fun playing hide and seek. How desperately I was waiting for them to show up! The ghost-like trees surrounded me. But I was not afraid. Call it my madness or excitement, but I knew I could talk to the rocky giants- the mountains, of course!
'Just a glimpse,' I tried to sound persuasive. At that moment I saw the rays of the sun pierce through the thick blanket of clouds, making the tops of the green giants shimmer. I strained my eyes to look beyond the horizon, searching for the snow-covered peaks. And finally my gaze landed on them- they were covered with a rug of green and brown, their bare tops beribboned with snow. Alas! I saw them and I thanked them. I think they smiled in response.
No, I am not insane. This is exactly what happened when we started our journey to Lachen from Chunthang Valley. North Sikkim is demanding yet beautiful. In fact, North Sikkim is the best thing that happened to us in our Sikkim trip. Extremely cold and wet weather, shivering bodies, remote areas, no network, and untouched natural beauty- are some of the features of this area.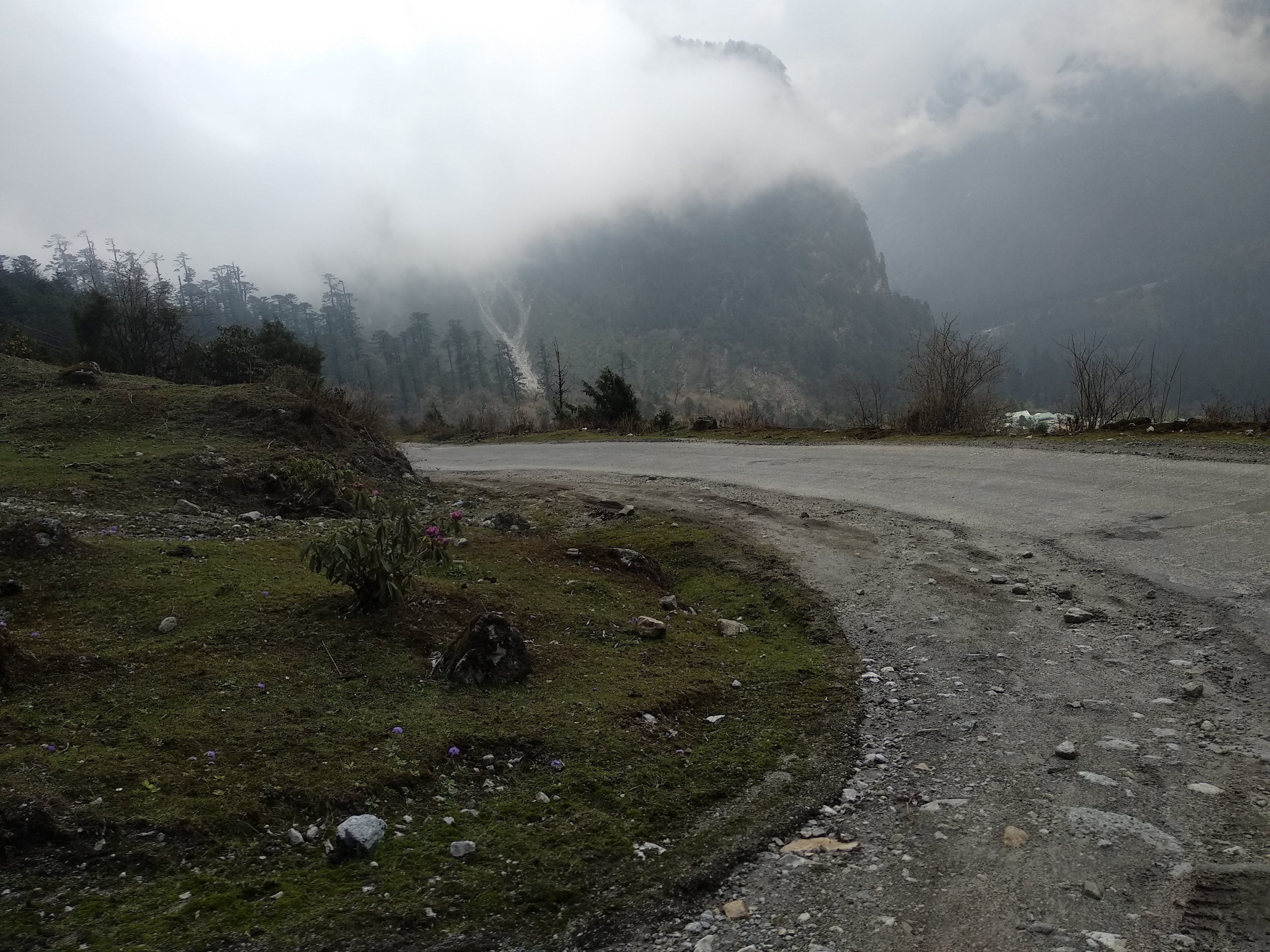 There are two main cities that constitute Northern Sikkim- Lachen and Lachung. Chungthang Valley is the bifurcation point for these two places. Both these cities are extremely remote and have unpredictable weather conditions. The North Sikkim trip is a three-day tour (2 N and 3 D to be precise). You are required to spend one night in Lachen and acclimatize to the climate. The next day, you take a jaunt to the Gurudongmar Lake and travel to Lachung. The third day you go on a half-day excursion to Yumthang Valley and the Hot Spring and then travel back to Gangtok.
LACHEN
Lachen is at 8500 ft and the temperature (in April) ranges between 4 to 9 degrees. Rain can be expected in the evenings. There are limited accommodation options here. We booked our hotel through Airbnb- Snow Retreat. The view from the hotel was magnificent.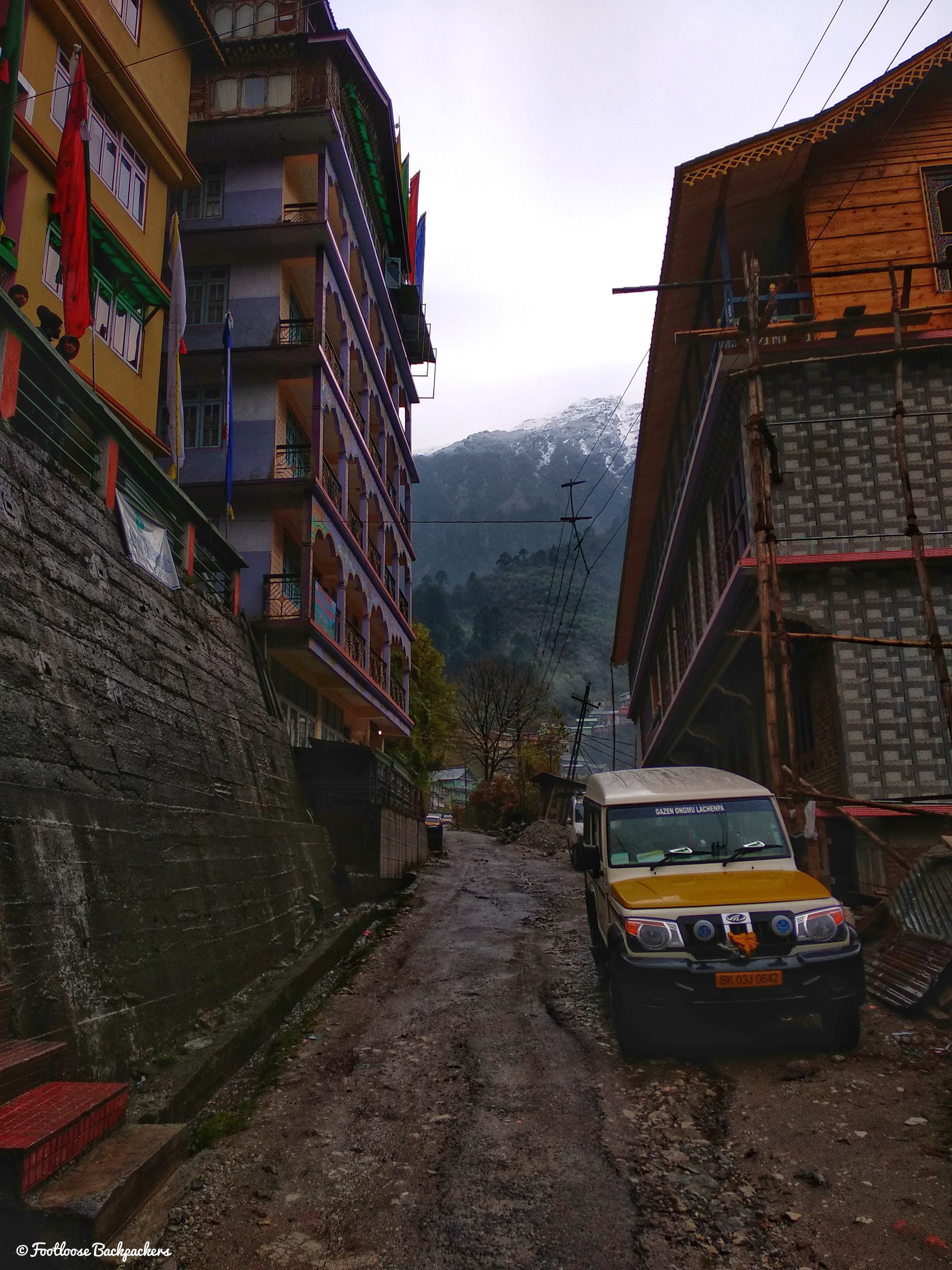 Roads in Lachen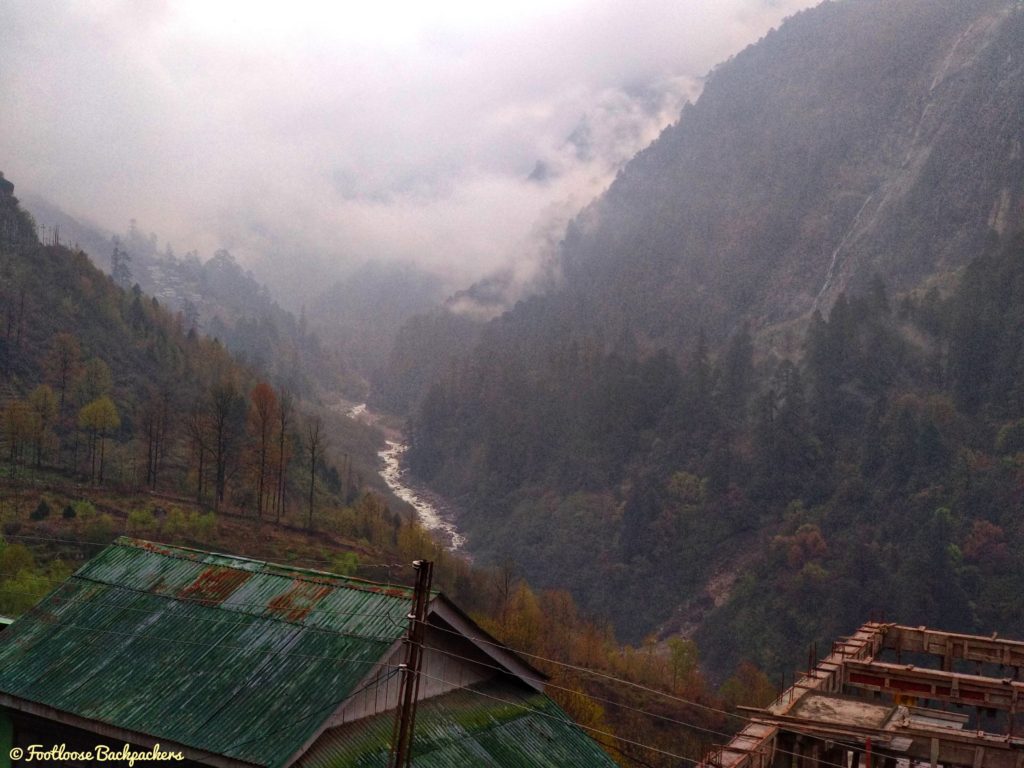 View from our hotel in Lachen
But there are certain things we didn't like. Most of the hotels in Lachen and Lachung make a false promise of wifi availability on their websites. When you ask, they take pride in explaining that they have to do so in order to attract customers. We don't mind being disconnected from the world for a while, but we despise the idea of false promotions. Since our travel by road was organized by Rent-a-cab, we left the stress of getting the permit to them. All we needed to hand over was a copy of the adhaar card (of each traveller) and 4 photos (of each traveller).
We left for Lachen at 9:00 AM from Gangtok in a regular vehicle (Bolero). Since ours was a private cab, we had all the space to ourselves (point to be noted). The road till Chungthang Valley, which is around 95 km from Gangtok, is average. With a lot of turns and twists which ought to make your stomach swirl, we reached Chungthang by 4:00 PM. We stopped at the side and tried to capture the entire valley in a single photograph.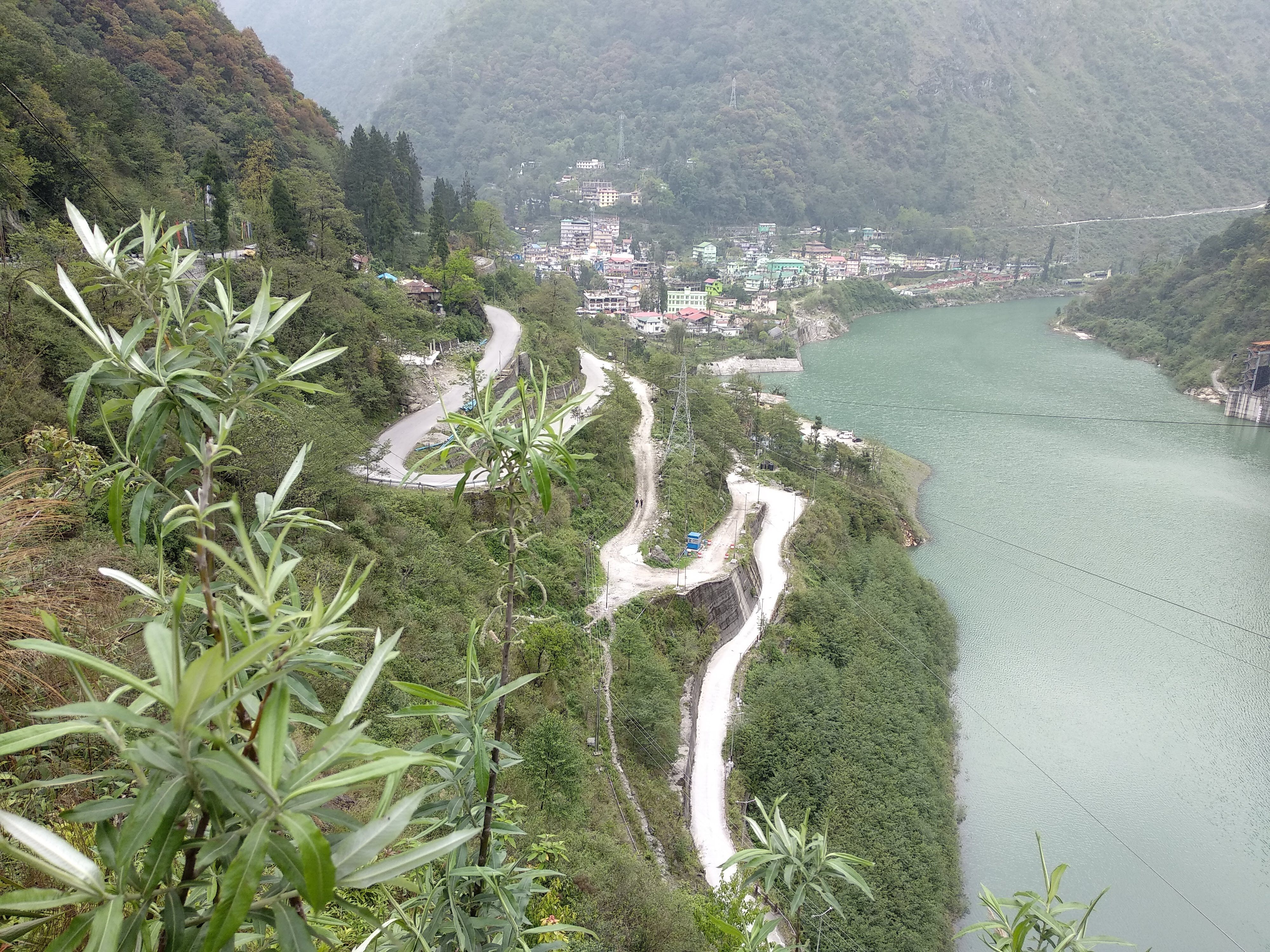 Chungthang Valley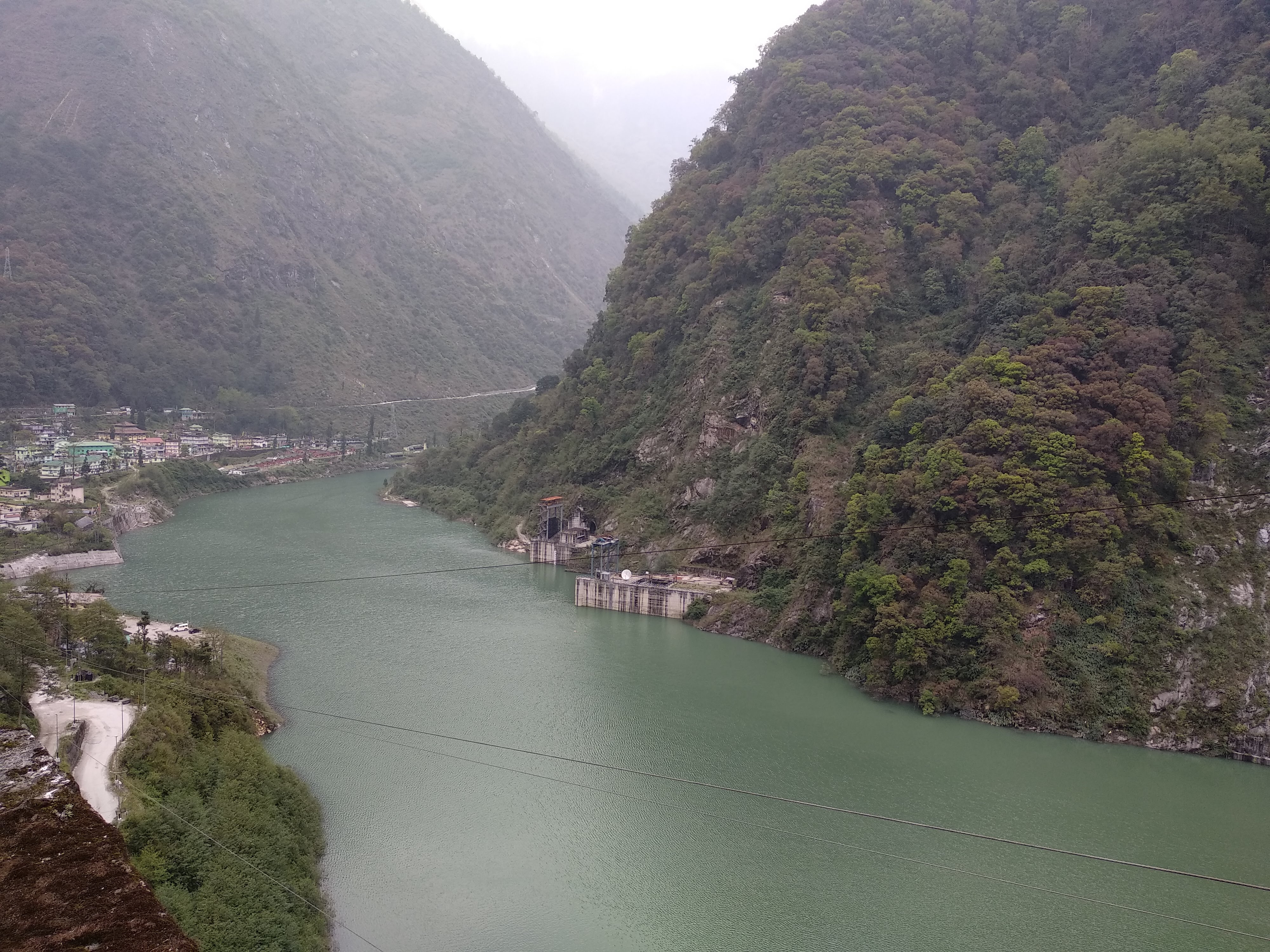 River Teesta at Chungthang Valley
It was majestic- so quiet, so serene! On the way, we stopped at Seven Sisters falls and had breakfast there. From the rocky offshoots, we saw the waterfall drift as if several smooth white threads have been interwoven together. Chungthang Valley is situated at the confluence of Lachen and Lachung rivers, which eventually combine to form Teesta River. The road bifurcates and leads to Lachen and Lachung. Our plan was to go to Lachen first. The road to Lachen was tricky. It took us another two hours to cover 26 km and reach our hotel. By then it had started raining. Tired from the journey, we relaxed for some time and then went out to find something to eat.
Note: Lachen is a hamlet with very few people. There are hardly any food shops on the way to Lachen. It is advisable to buy some snacks, maybe something for the dinner too, when you halt at Chungthang for Lunch.
Note: Plastic is banned beyond Chungthang. Carry a thermos or a proper sipper if you want to carry water. We did not find even a single shop selling bottled water and had a tough time.
Lachen has many liquor shops owing to the cold weather. But we did not find any place that offers proper meals. The staple diet of people there includes pakodas, Thukpa, noodles and fried rice. Ingredients is the place we chose for dining. A small restrobar, this place was cosy. There were no other customers. But take our word, the food was good, especially the Thukpa. We spent the night clicking photos, playing cards and charging our phones and power banks for the next day.
Our plan for the next day was to visit the very famous Gurudongmar Lake and then drop the anchor in Lachung. We began as early as 5:00 AM. Gurudongmar Lake is situated at a height of 18000 ft and is 67 km from Lachen. It took us around 4 hours to reach there because the road is terrible.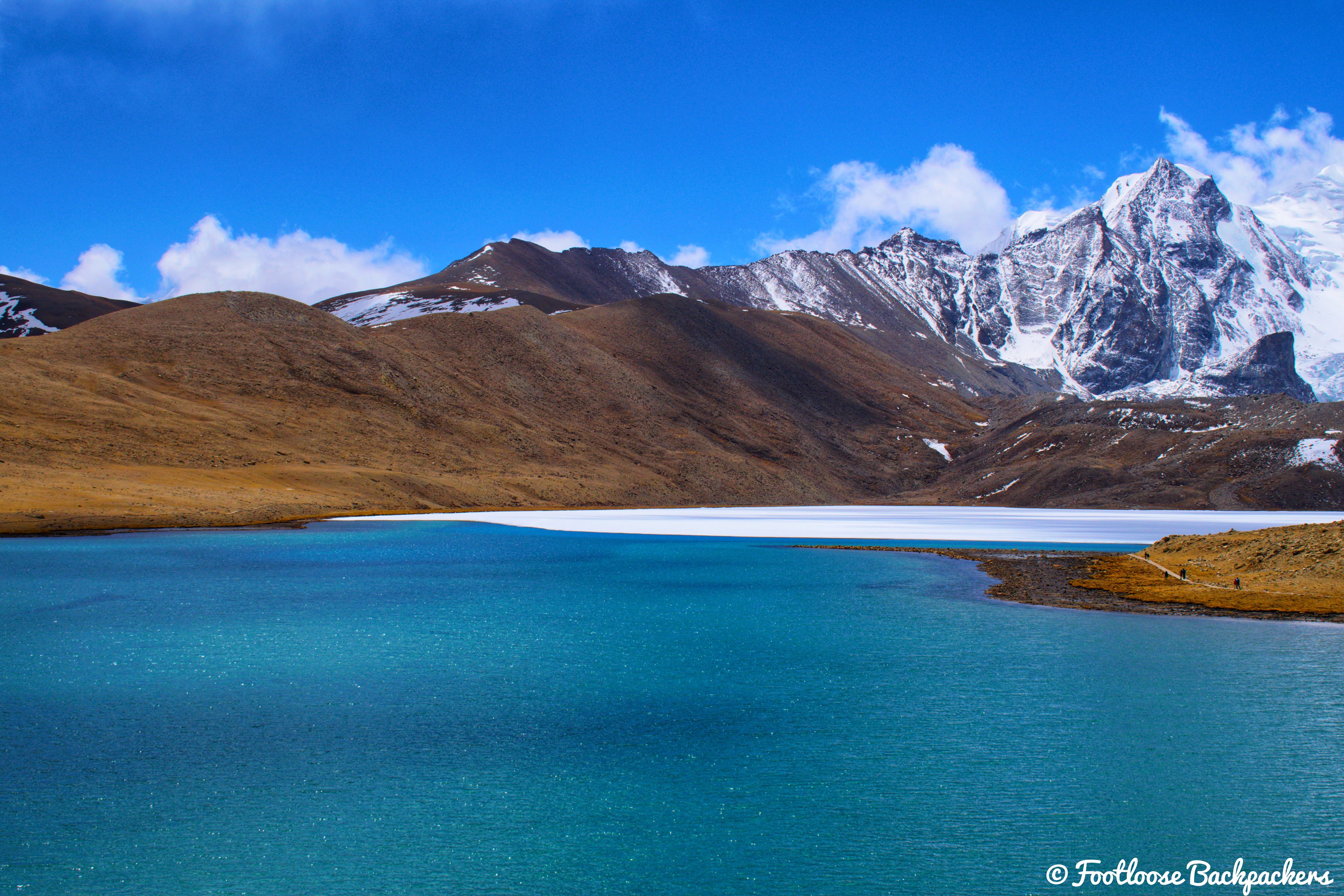 Some points to keep in mind before you decide to visit this place:
• Since Gurudongmar is situated at a significant height, breathing problems are normal. Refer to a doctor before planning this trip and keep the necessary medicines handy
• Owing to the terrible roads, motion sickness is also normal. Carry the medicine for that too
• Bring along enough woollens because it will be extremely cold. Ensure that your ears and mouth are covered
• On the way to Gurudongmar, you will come across Thangu Village and Chopta Valley. Though there is not much to explore, you get to see the scenic panoramas and plush landscapes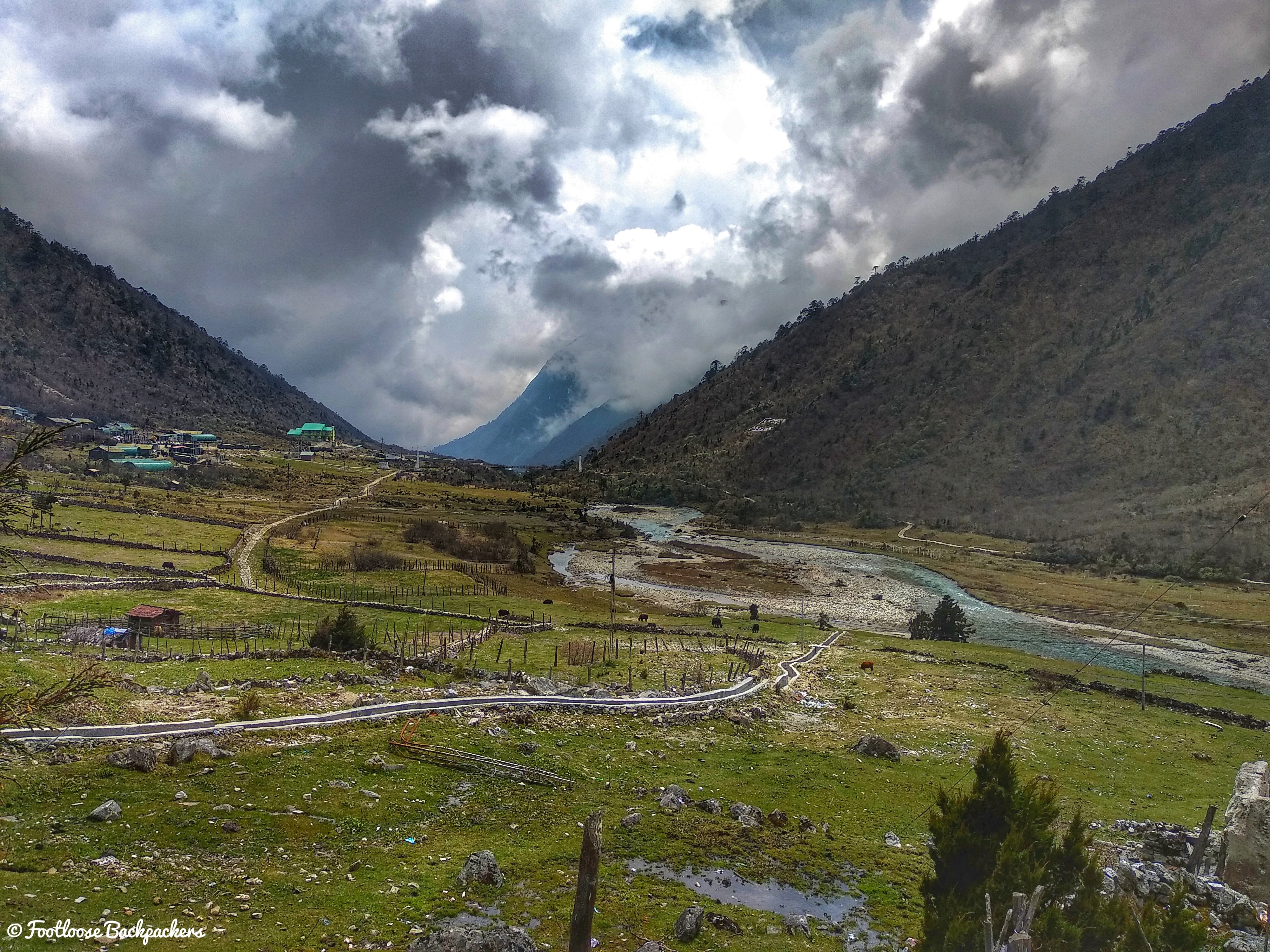 Thangu Village
• Ask the driver to stop at Chopta Valley for breakfast. Chopta Valley is at 12000 ft and when you step out from your car, you will feel the difference. Here, you can see the ghost-like tall trees as the silent observer of the snow-covered peaks. You will not find layers of snow in April. Have breakfast here
• The next stop will be Thangu Village that offers breathtaking views of the alpine valley of frozen rivers. Thangu Village is a remote high altitude village of Tibetan Nomads. Since Gurudongmar Lake is closer to China Border, you will find army regiments at regular intervals. It feels safe in their presence. At Thangu Village, another permit is required which the driver will know. You can soak in the warm sun and try to acclimatize your body at 13000 ft
• The next stop is at 15000 ft (6 km before Gurudongmar Lake). Here, the army provides a medical aid room. For those who feel short of breath, they can get oxygen masks here. There are toilets and a small shack that provides water
• At 15000 ft you will know the difference in the oxygen level. Try not to jump around. Walk slowly and if there is even the slightest doubt, refer to a paramedic immediately
• The road after this point is magical. It is curvaceous but properly paved. You will enjoy every bit of this part. It takes around 15-20 minutes more to reach Gurudongmar Lake from here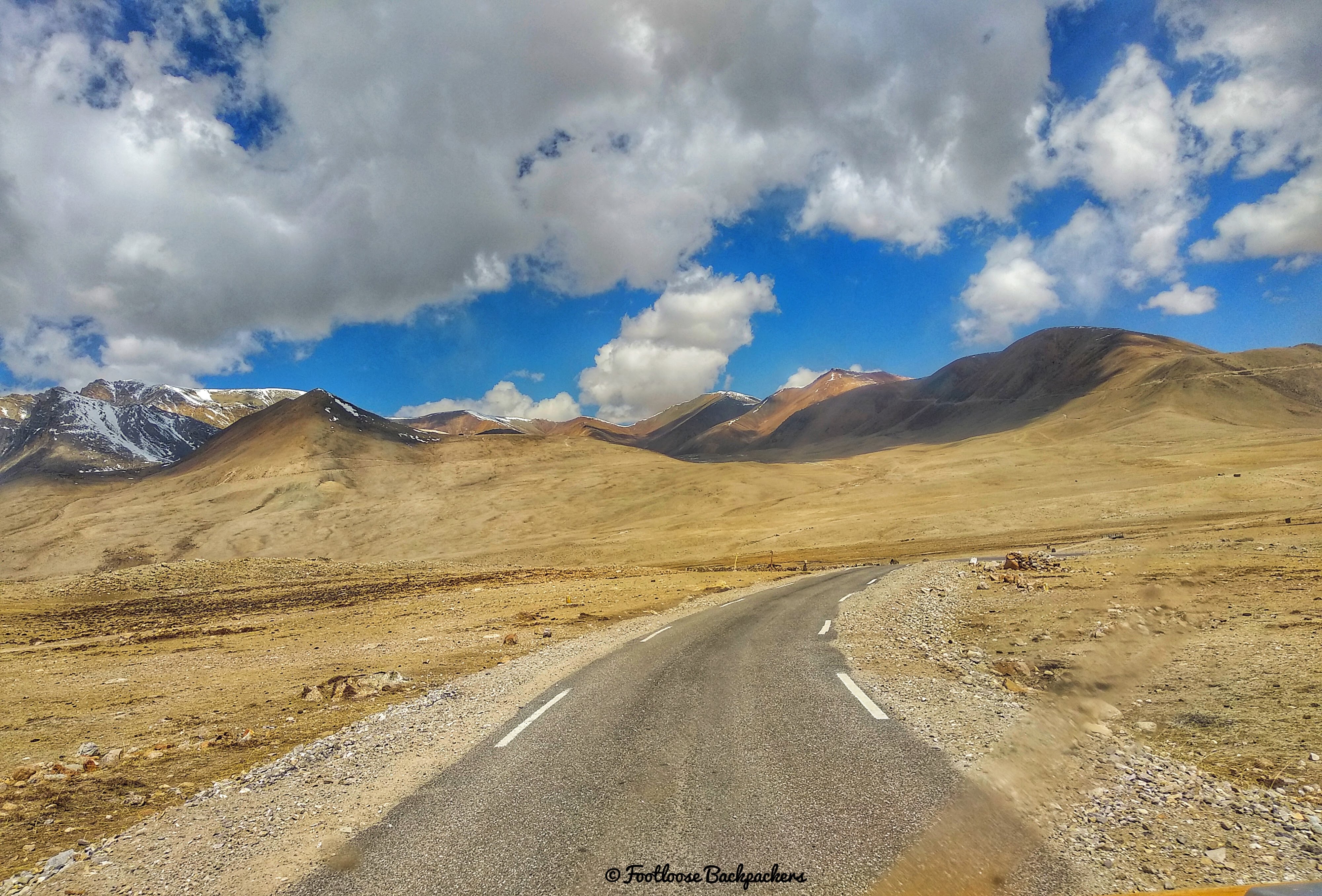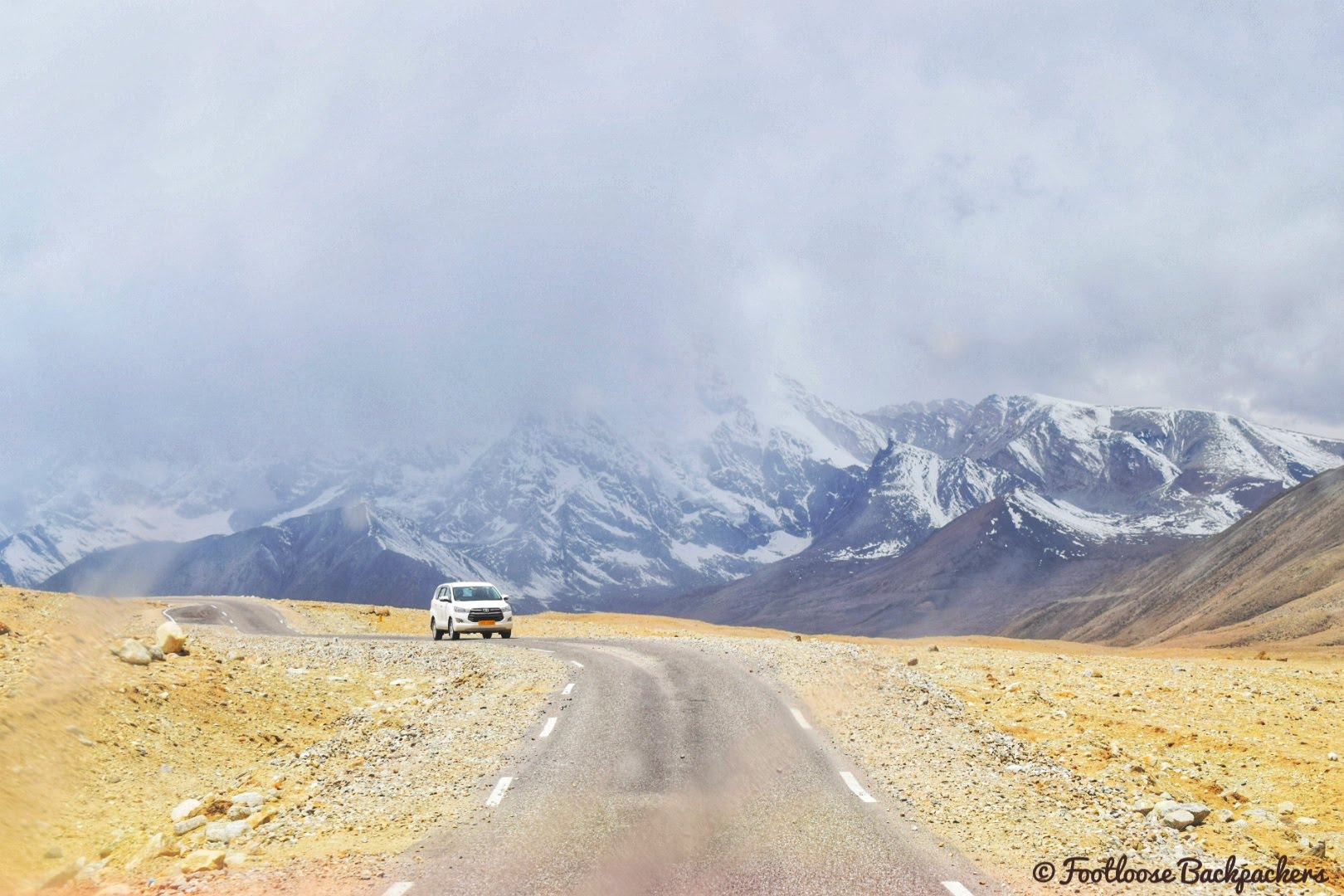 Clean as a whistle, the Lake looks like the one from the fairy tales. Spend no more than 35 minutes here because the air is very thin and oxygen is less.
After enjoying the blissful one hour at the lake, brace yourselves for a rough journey back to Lachung which is 113 km from Gurudongmar. On the way, you can stop at Naga Falls or Amitabh Bachchan Falls and enjoy the view.
LACHUNG
Unlike Lachen, Lachung is cradled between the giant rocks just like a Shangri-la. It is completely remote but the best part is that the rocky giants are all the snow-covered mountains. This makes this city colder compared to Lachen. Yet again, you will not find wifi. We stayed in Lachung Continental that spacious rooms and a magnificent view. The food was delicious (we ordered from the restaurant in the same hotel) and economic. When we were in Lachung, it was raining cats and dogs and hence, we could not go out and explore the surroundings. It was freezing cold.
We started for Yumthang Valley at 7:00 AM the next day. On the way, we had to pass through the Singba Rhododendron Sanctuary. Rhododendrons are alpine species with small leaves and small flowers. The colour varies as there are abundant types of flowers.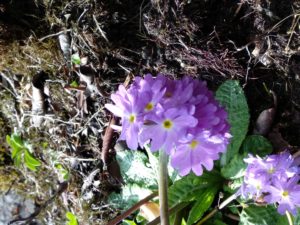 Yumthang Valley can, at times, be indistinguishable from the snow-clad mountains and valleys of Switzerland. We read this somewhere and now we agree with this too. Yumthang has a combination of everything. Since it is situated almost at the tree line, there are enough trees that make the mountain appear green. It has a huge snow covered mountain as the backdrop and a river flowing right through the valley. You can see yaks grazing on the fields painted with violet and red coloured Rhododendrons. The scene can leave you spellbound.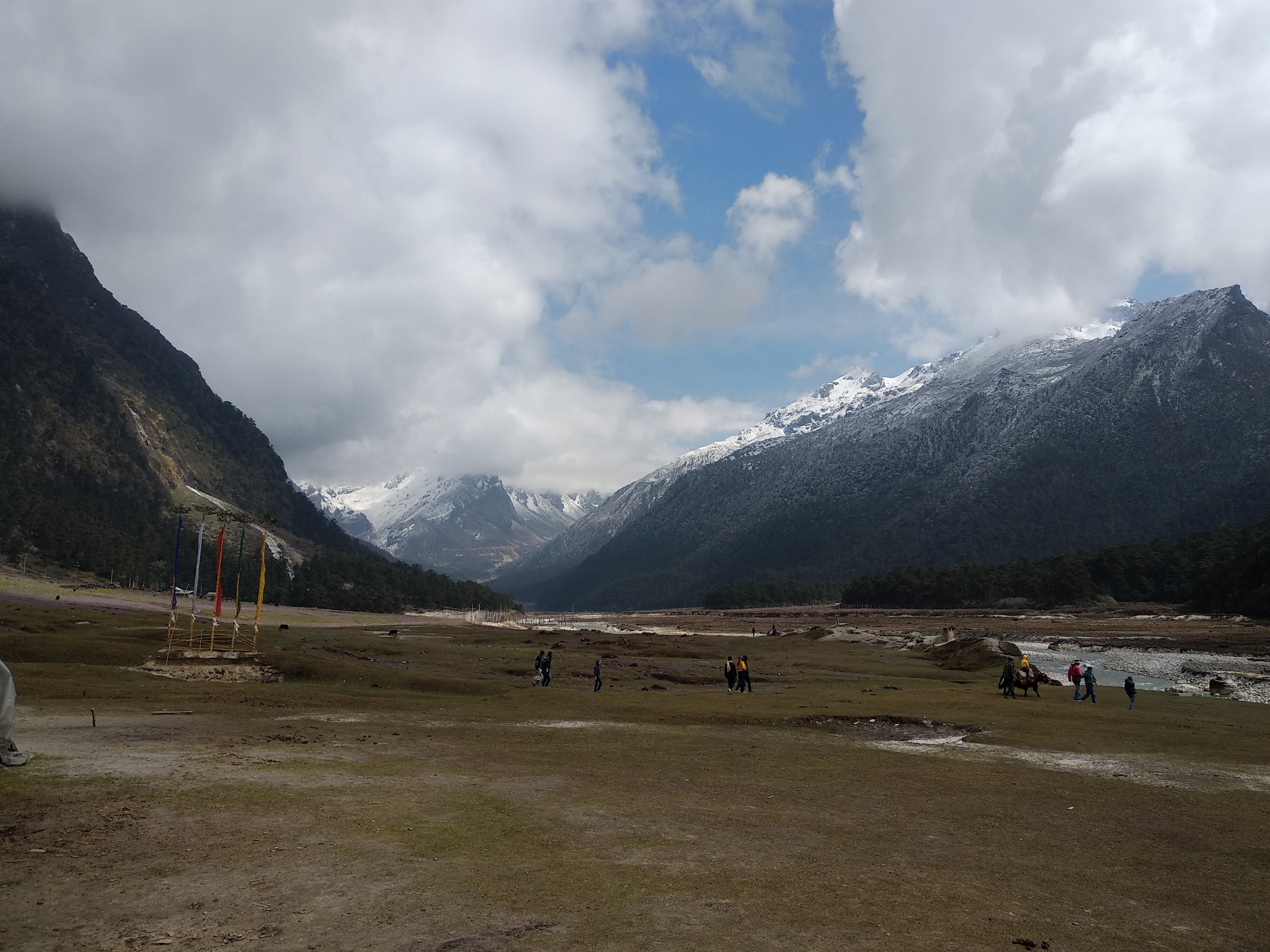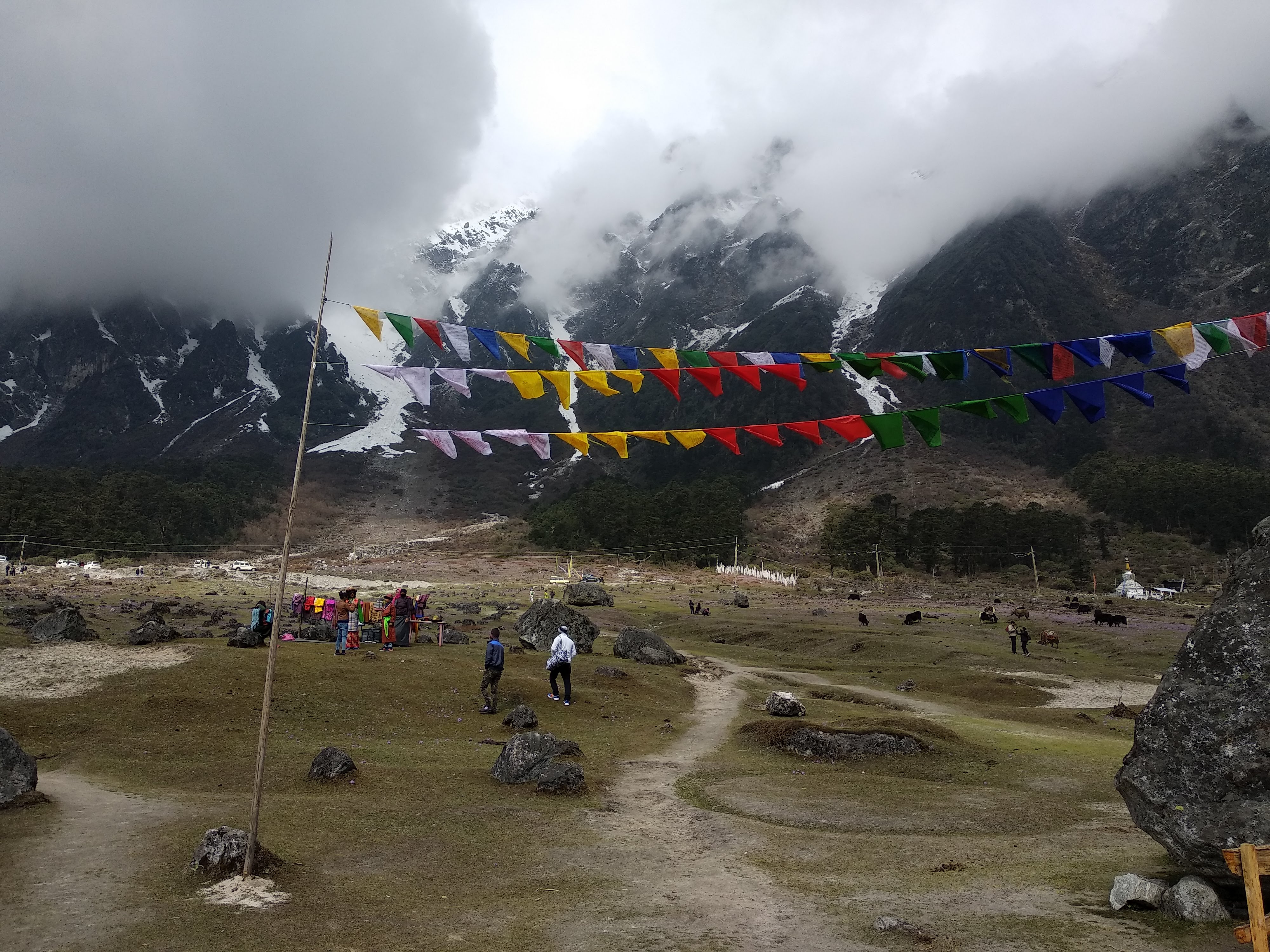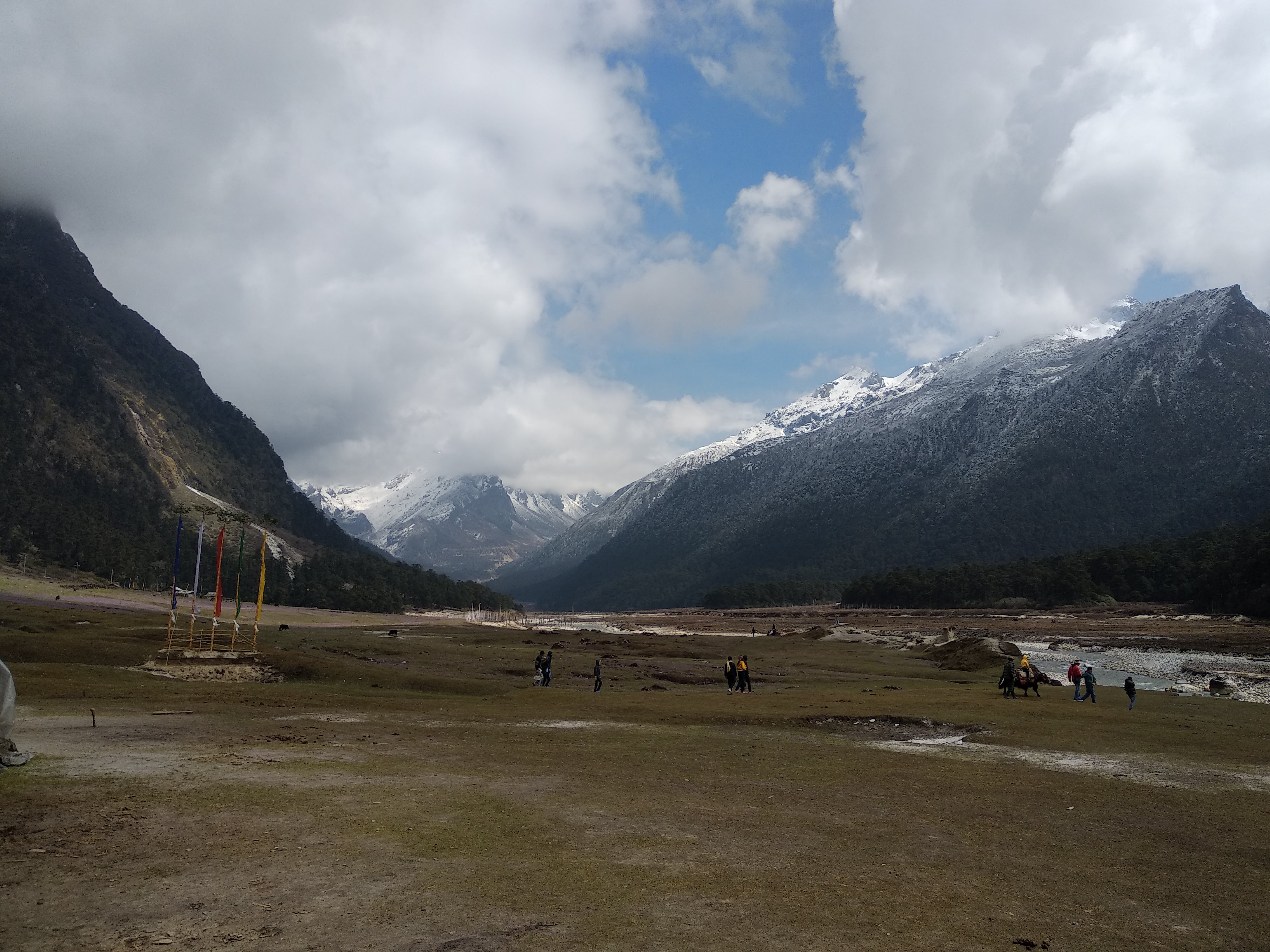 There are several small shops on the roadside that offer magi, bread omelette and tea. They also rent fur coats, gumboots and overcoats. You can buy souvenirs too. We spent about an hour at Yumthang and then headed to the Hot Spring.
The Hot Spring is just a kilometre away from the valley. You have to hike to reach the hot spring. It is inside a small room and the water is filthy. One positive of stopping here was that we could make many time lapses and click plenty photographs.
At around 12:00 PM, we started for Gangtok.
North Sikkim is the land that makes you introspect. It is so bewitching that the soul seems to unwind and the mind becomes disciplined. It is the land where the heaven seems to meet the earth. Everything about it is exquisite. Though the journey is backbreaking, yet the destination is worth all the trouble. Immaculate and unsullied, North Sikkim doesn't invite many tourists owing to the extreme weather conditions. But if you plan a trip there, please respect nature and come back leaving it unblemished.
Request: North Sikkim and East Sikkim are areas which are under the protection of the Army. It is our request to follow the sign/ instruction boards that forbid photography of the base camps. Not everything needs to be captured in the reel. After all, it is humans who make memories and not the places (quoted Ama Ata Aidoo).
To know the details of our entire trip, click Sikkim Itinerary.
For further information, click the links below:
Things to do in Pelling
Exploring Darjeeling in half a day
Enchanting East Sikkim
Gangtok at a glance