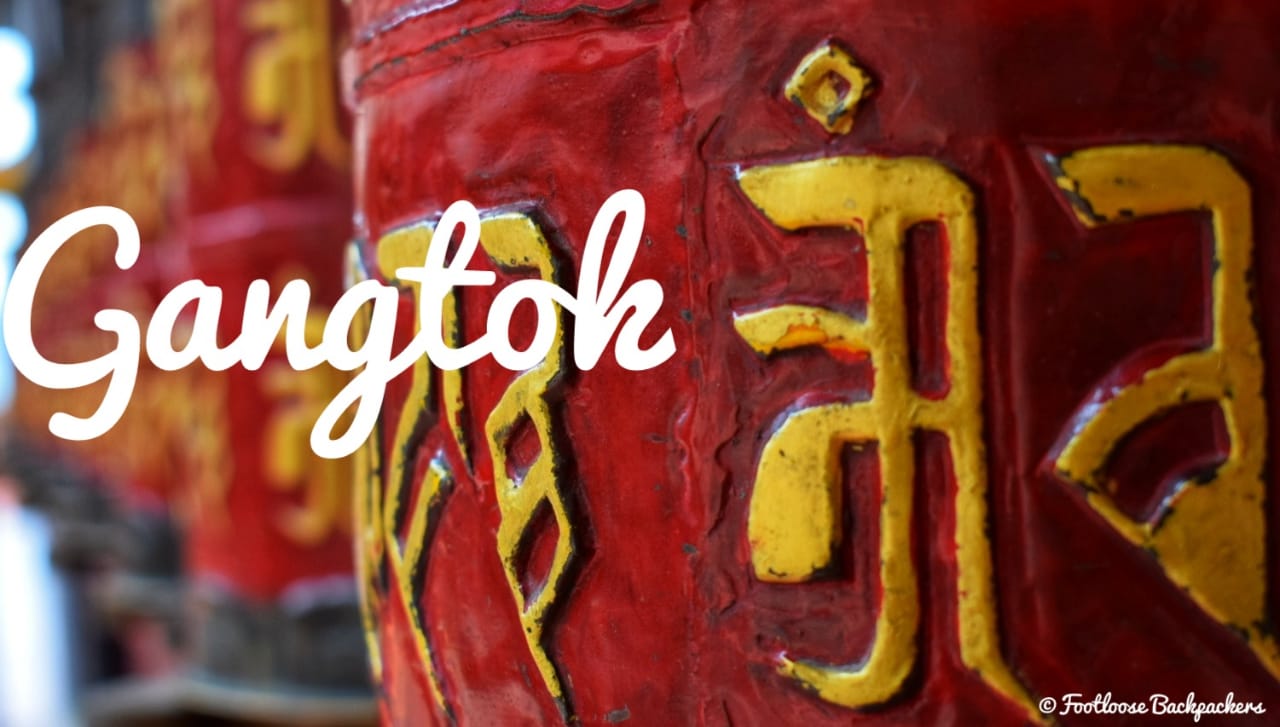 Gangtok at a Glance- Part V of Sikkim Tour
Selectively rambunctious and judiciously beautiful, Gangtok, the capital of Sikkim, is the hive of activity. The city that gives you a view of Mt. Kanchenjunga at a distant skyline, often surprises its people with the capricious weather. Lying under the caress of the great Himalayas, Gangtok has many attractions to look forward to.
After finishing our North Sikkim tour, we reached Gangtok on the 6th day of our trip. The next two days were already planned- one day for East Sikkim followed by exploring MG Marg and the second day for Gangtok city tour followed by MG Marg (yes, again).
Accommodation
We stayed at Bookman's BnB (Racha Book Store) and we were not happy with our choice. Loaded with positive reviews, this BnB bamboozled us into believing that everything about it would be impeccable. Alas! To begin with the café, our sole reason to book this place, was under construction. We came to Gangtok from Pelling on the third day of our trip. For that day, too, we had booked this place. That's when we got to know about the café not being functional. The owner gave us false hopes that it might be ready when we come back after the North Sikkim Trip but that never happened. MG Road is at a walkable distance (10- 15 min walk) from the hotel but then when you are too tired to walk, your stomach churns because it needs the fuel and you can't depend on the hotel for a light breakfast also, you will definitely be put in a black mood. We were told that since nothing was organized at that moment, even light breakfast wouldn't be possible. Guess what- on the internet, people raved about how delicious the cheese omelette was and we weren't lucky enough to taste one.
The room service was awful. Our rooms were not cleaned; nobody even asked us if we wanted them cleaned. The geysor didn't work. The third bed that was placed in our room was extremely uncomfortable. Basically, the mattress was put on a thin table in such a way that some part of the mattress hung out to touch the floor. No doubt the room was cosy but who would want to live in a small room that isn't cleaned for three days?
The Rachna Bookstore is good. But the books weren't organized. Being a book lover and a bibliophile by nature and profession, I (E) can easily distinguish between the passion of having books and onus of maintaining a bookshop. Randomly placed, the books were not categorized in any particular order. The collection was up-to-date yet the derangement irked me a lot.
Overall, we despised the idea that the owner didn't mention anywhere about the café being renovated. Our suggestion to all of you is that you call and confirm about the café before going ahead with the booking.
On the 7th day of our trip, we began our journey towards East Sikkim. Check the details here.
The next day, at around 09:00 AM, we were ready to explore Gangtok. We visited the following places (in the same order):
1. Banjhakri Falls
2. Lhasa Falls
3. Gonjang Monastery
4. Tashi View Point
5. Ganesh Tok
6. Hanuman Tok
7. The Flower Show
8. Namnang View Point
9. Gangtok Ropeway
Banjhakri Falls: Located at a distance of 10 km from the main city of Gangtok, Banjhakri Falls is a massive waterfall that derives its name from the Nepali folklore that describes 'Ban Jhakri' as the 'Forest Priest' who excelled in mastering the evil spirits. But in order to teach young boys this secret, he resided in this forest and made them practise the skills. 100-foot long, Banjhakri Falls is spread across hundreds of acres of land. There are plenty of food joints and they serve paranthas, Thukpa, noodles and pakodas. One can have a nice and sumptuous breakfast here, albeit, the service is a little laid back. Bathing in the waterfall is not allowed but one can get as close as possible and get pictures clicked.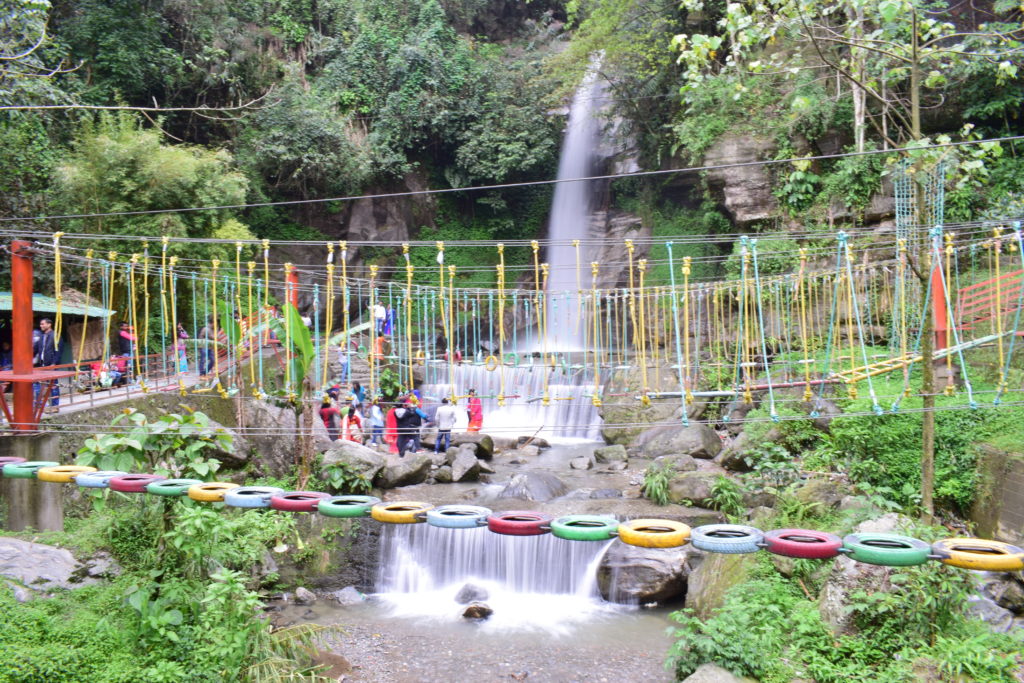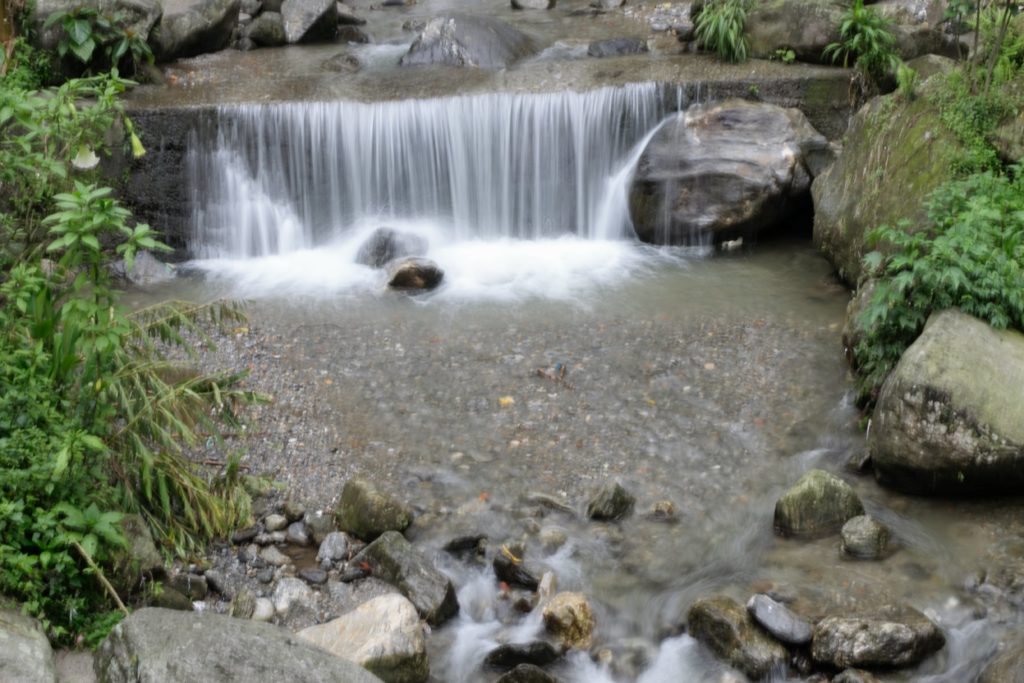 The entry ticket is 30 INR/person and the parking fee is 30 INR per vehicle (four-wheeler). It takes around 1- 1.5 hrs to explore the entire area. There are rope obstacles for kids too. We could also spot people boating in a very small water body. Trust us, it is not worth the time and money.
Lhasa Falls: On the way to Ganesh Tok is a small waterfall that doesn't need a money tag to be explored. Lhasa falls, as it is known, is small and doesn't attract a lot of tourists.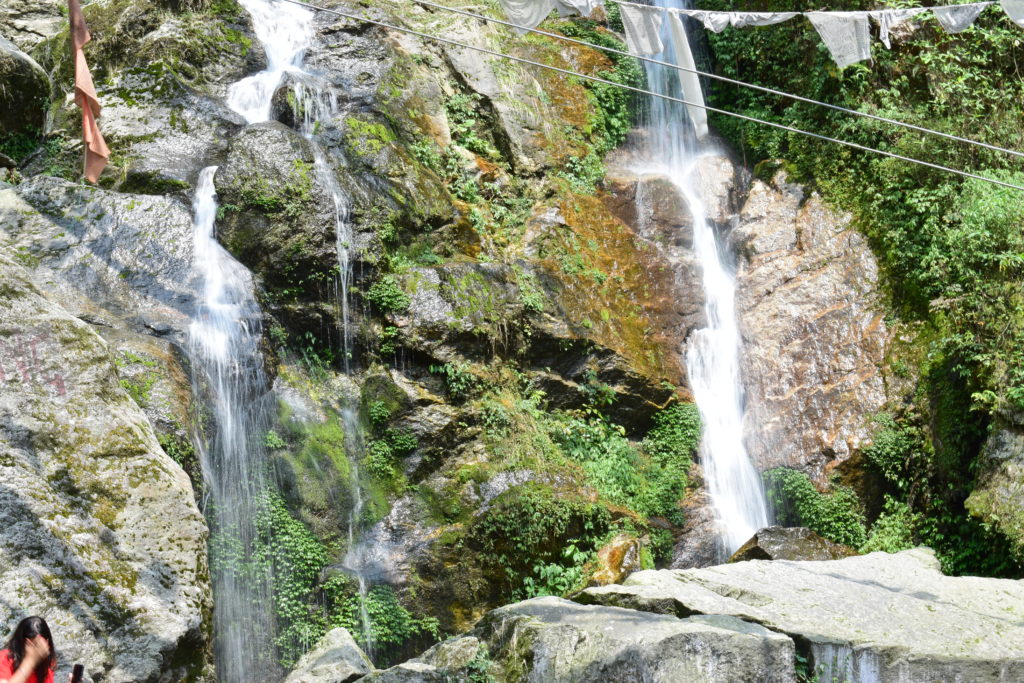 Lhasa Falls
Gonjang Monastery: Time-bound and itinerary bound, we could not go to Rumtek Monastery as it lies further off the main city and would have taken 3-4 hours for us to drive till there. Hence, we compensated that with Gonjang Monastery, which is located 6km from the main city. Festooned with multi-coloured flags, this monastery is beautiful. The monks stay here and study. There are no specific visiting hours. The main temple has enormous wall art that is drawn to detail. Photography inside the main temple is not allowed. On the rear side of the monastery are numerous prayer wheels. There is no entry ticket. However, a parking of 20 INR has to be paid.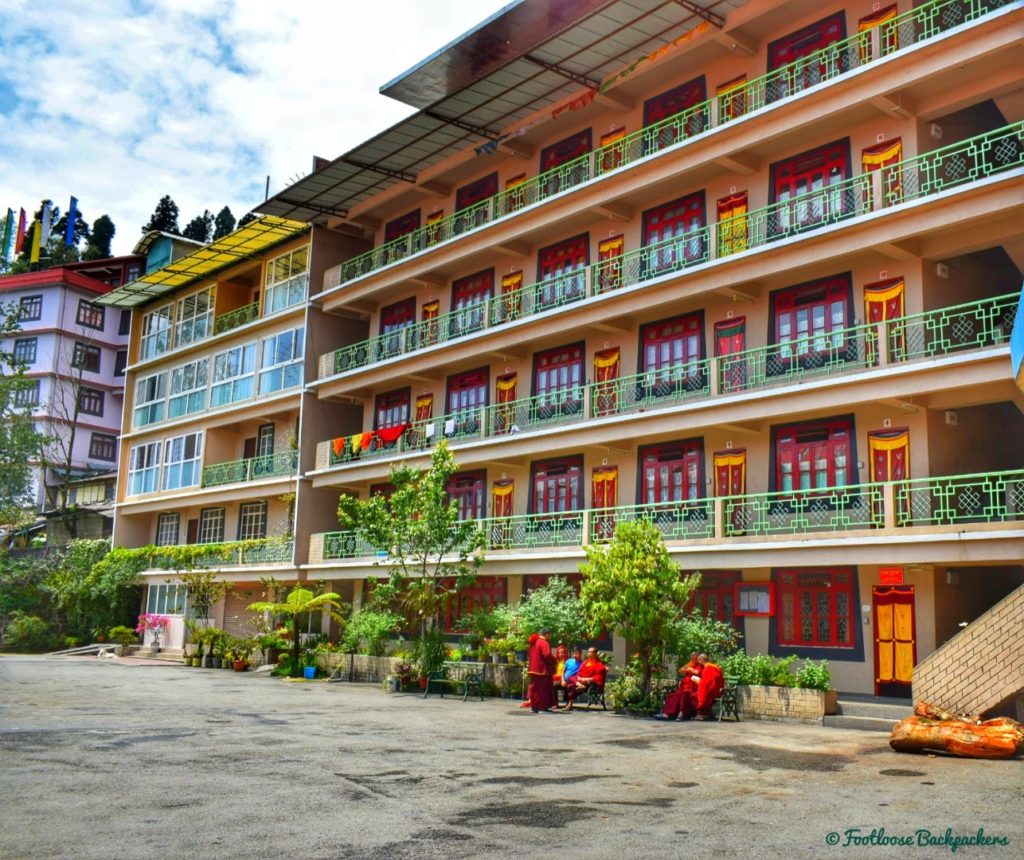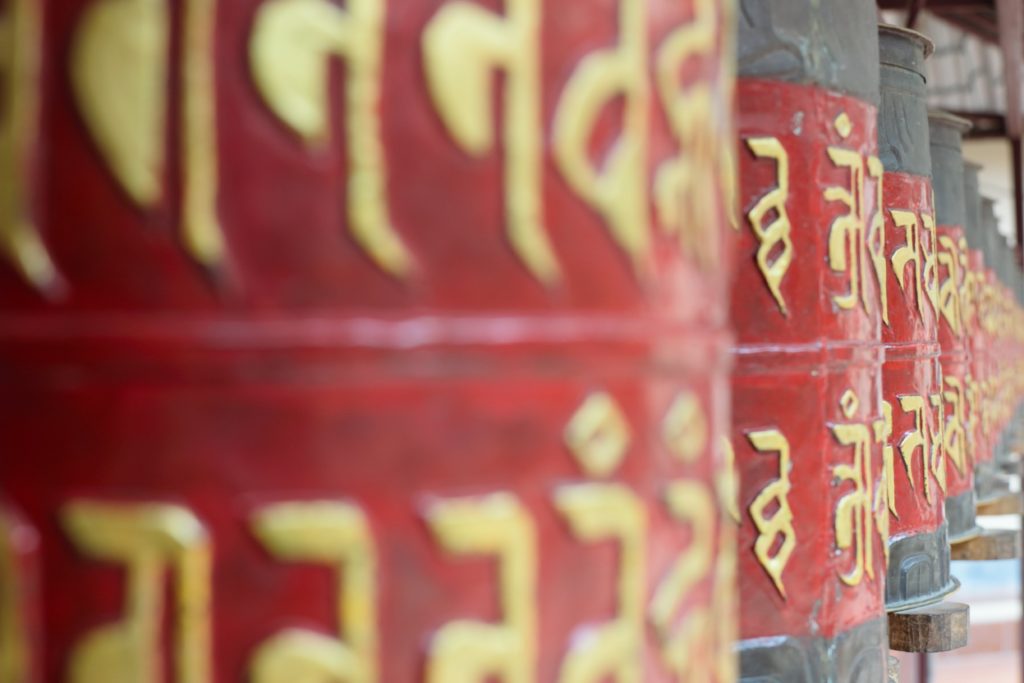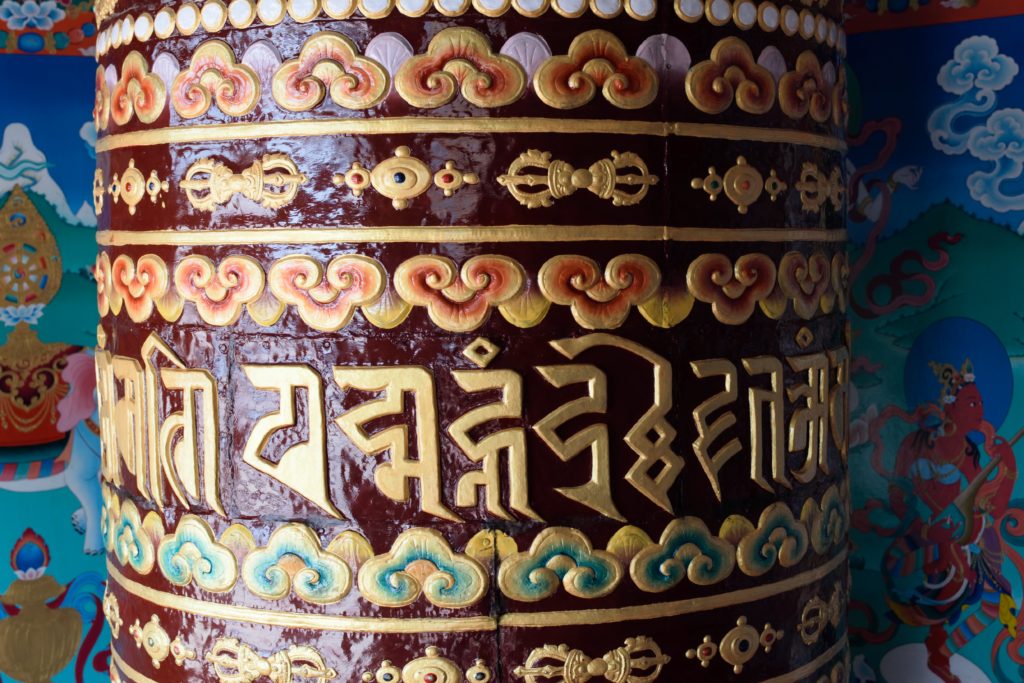 Tashi View Point: One of the most hyped viewpoints in Gangtok is the Tashi View Point. It is said to offer you a glimpse of the Kanchenjunga peaks on a bright sunny, albeit, clear morning. Perhaps, the weather didn't want us to get that chance because we couldn't see anything other than the overview of the city of Gangtok. There are many shops that provide breakfast and souvenirs nearby. There is no entry fee but a parking fee of 20 INR.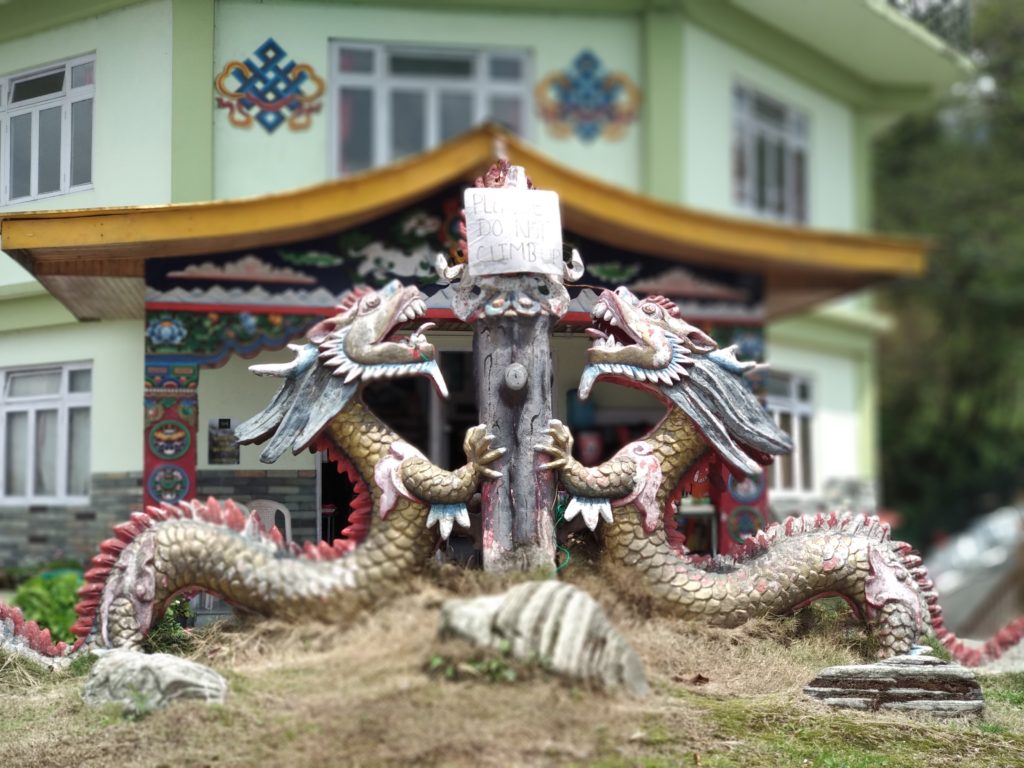 Ganesh Tok: It is a Ganesh Temple located at an altitude of 6500 ft. 'Tok' refers to 'temple'. Tourists come here not only to offer prayers to Lord Ganesha but to also soak and imbibe the beauty of Gangtok as seen from the viewing gallery. The entry is free but a parking fee of 30 INR is to be paid if you come here in a four-wheeler. There is a souvenir and gift shop within the complex that has some really economical and beautiful artefacts.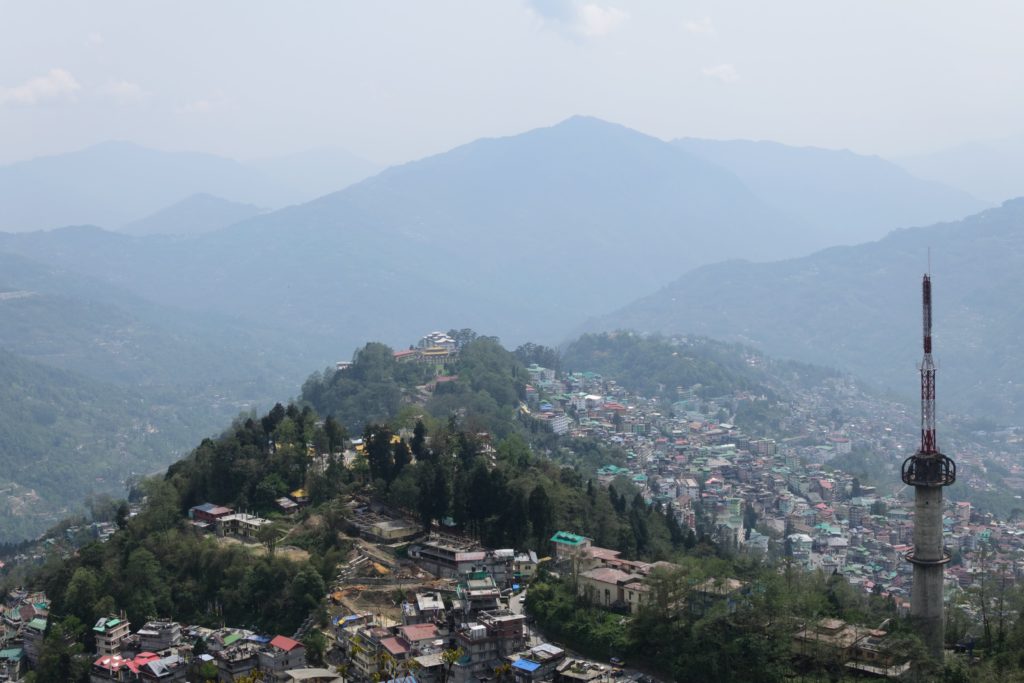 View from the gallery at Ganesh Tok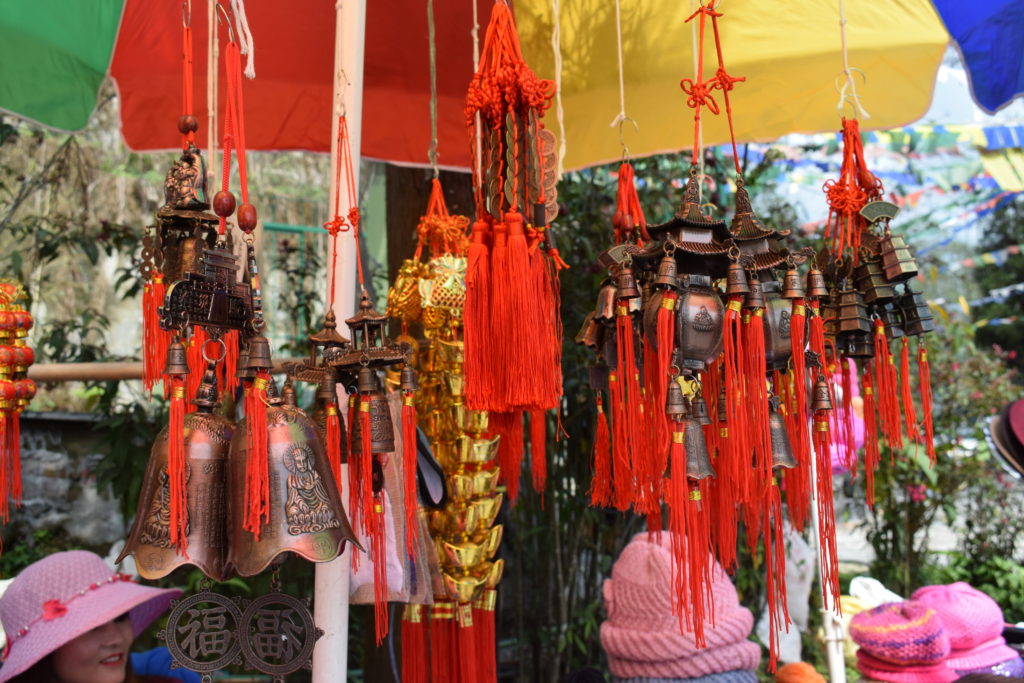 Souvenir Shops
Hanuman Tok: A little further from Ganesh Tok (5 km) is a temple of Lord Hanuman. Spread across a large area, the temple is the most beautiful Hanuman Temple have ever seen. It is located at an altitude of 7200 ft. The locals believe that Lord Hanuman rested in this place for a while when he was returning to Lanka from the Himalayas (carry Sanjeevani Booti). All along the way to the main temple, you can hear the chanting of prayers or the Bhajans playing on the speakers. The atmosphere is something to look forward to. The entry is free yet a parking fee of INR 30 has to be paid. There are toilets at the rear end of the parking lot.
Request: Please help keep the area clean.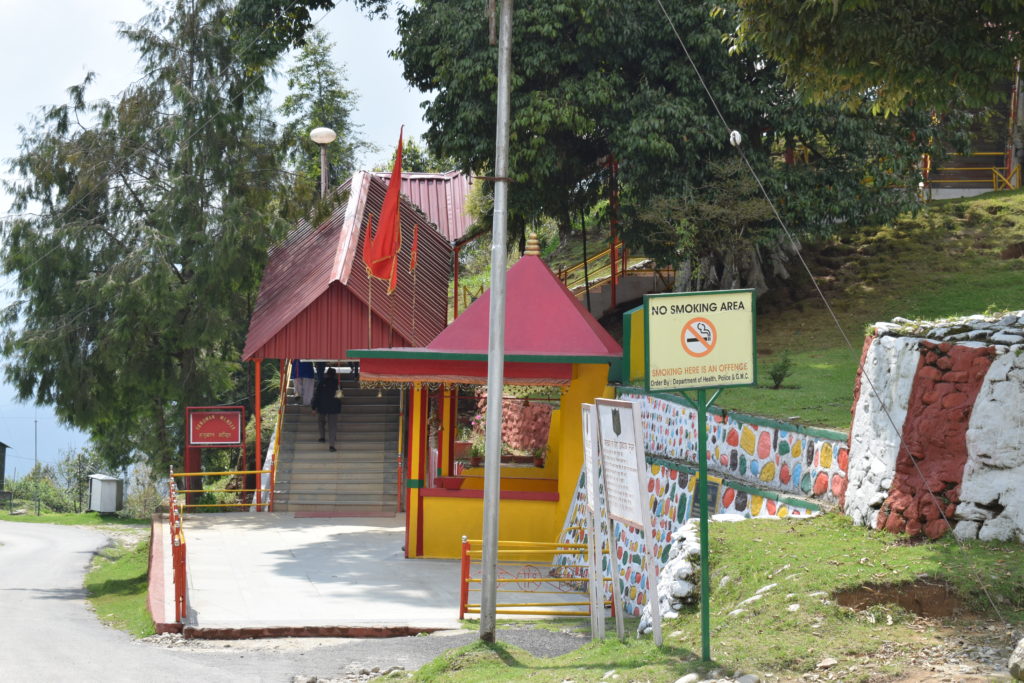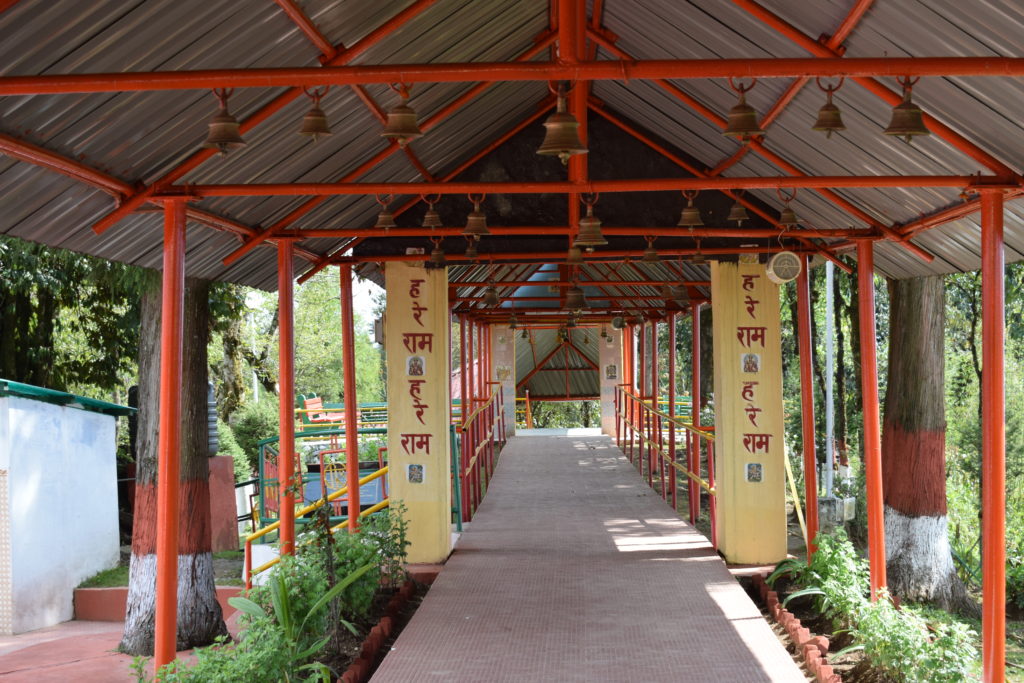 Flower Show/ Exhibition: Located at one end of the Ridge Park, the Flower Exhibition (Ticket= 20 INR/ person) is organized annually and showcases orchids of various colours. The best time to visit is between March- June when the Orchids are in full bloom. For the ones who adore flowers, this is the place for you. You can even buy plants/ seeds, which are sold outside the main hall.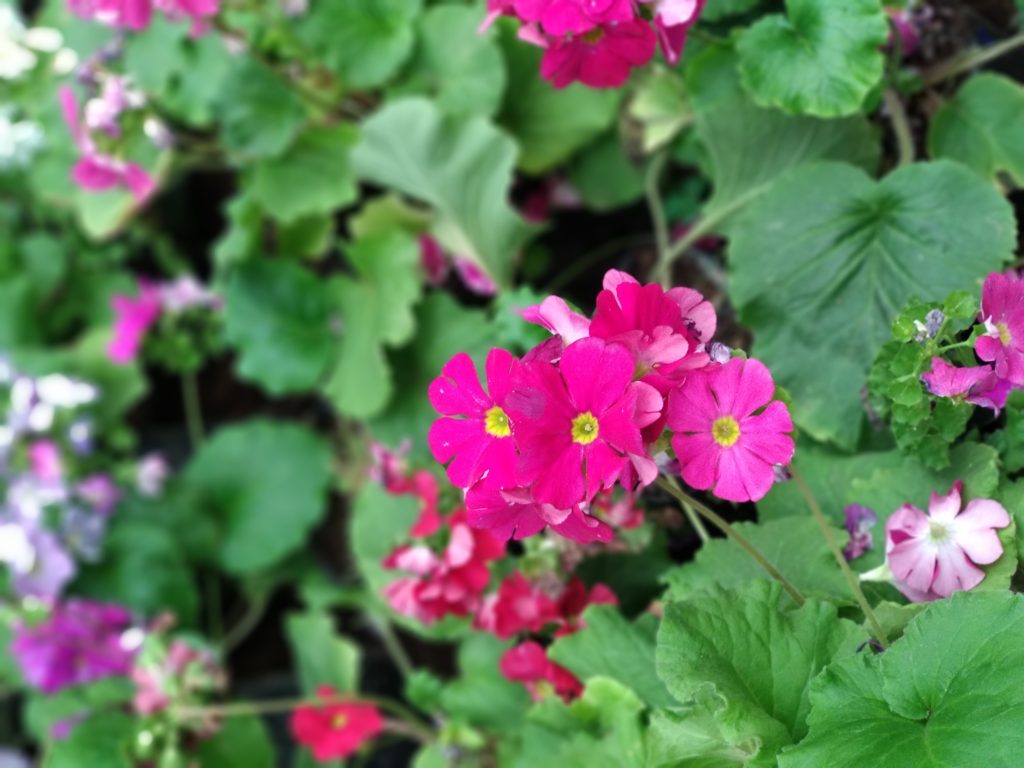 Namnang View Point/ Gangtok Ropeway: The Namnang Viewpoint is adjacent to the Gangtok Ropeway. Our driver suggested that if we were going for the ropeway, it is equivalent to viewing the city from Namnang viewpoint. Lasting only for a total of 7 minutes (to and fro journey combined), the Gangtok Ropeway is simply wastage of money. The ticket is priced at 117 INR. The trolley doesn't halt on the other side; it touches the base and comes back to the origin. Yes, it is true that the bird-eye view of the city can be enjoyed from the trolley, but it lasts only for a few minutes.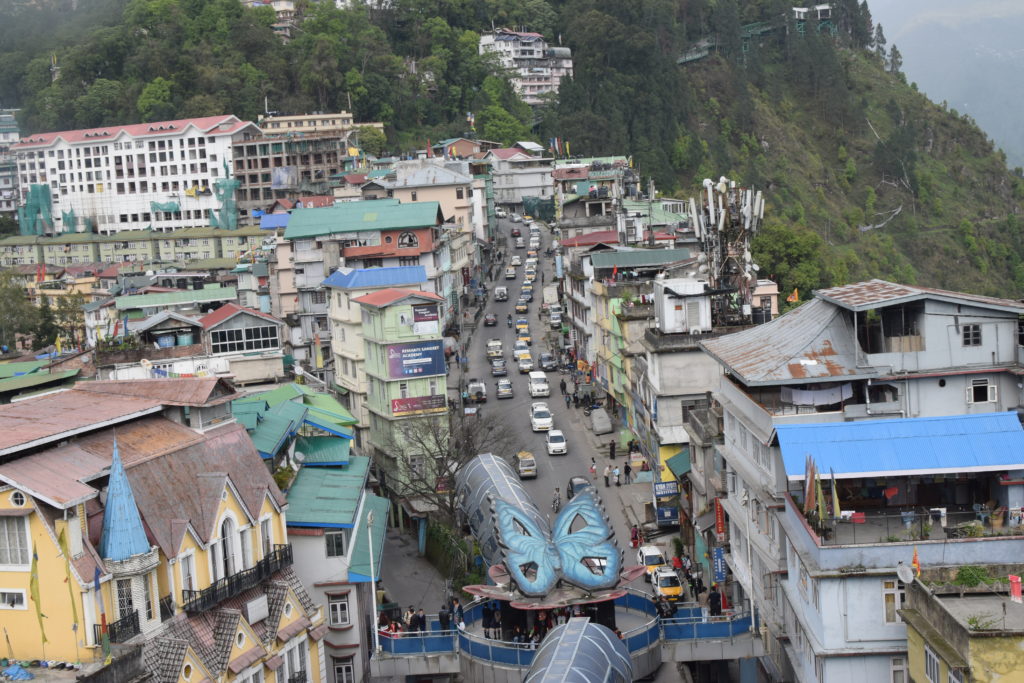 We explored all these places in one day (beginning our day at 09:00 AM and finishing with the Ropeway by 4:00 PM). Gangtok Ropeway is less than a km away from MG Marg. Hence, after you finish the ropeway, you can walk your way down the road. Like we have been repeatedly writing that we spent three nights in Gangtok, every evening, we spent our time in MG Marg. Not that we are shopping enthusiasts, but we wanted to soak in the crowd, culture, food and milieu of the capital of Sikkim.
Adjacent to the MG Marg is Lall Market that is known for testing one's bargaining skills. But apparently, whenever we tried to bargain, the shopkeeper showed us the 'fixed price' tag. Though the things/ items, especially souvenirs and small items in the pop shops were economical, we failed terribly at bargaining. Our love for food made us try new restaurants like Chopsticks, Rasoi (Pure Vegetarian), Baker's Café, Parivar Restaurant, Mother's Kitchen, and Unique Sweets, Snacks and Bakery. 
Gangtok was the last part of our Sikkim Trip. We travelled to Siliguri and stayed in Hotel Jagat (OYO) which was near the Bagdogra Airport. Next morning, we boarded our flight back home.
Sikkim is a paradise on earth. With turquoise- blue streams finding their way through the forests and the green giants overlooking the gorgeous valleys, Sikkim is a state that is bedizened with beauty in all forms.
To know the details of our entire trip, click Sikkim Itinerary.
For further information, click the links below:
Things to do in Pelling
Exploring Darjeeling in half a day
Demanding Yet Beautiful North Sikkim
Enchanting East Sikkim