Two Tickets to Paradise: The Complete Guide for Exploring Thailand
Thailand Itinerary
7N/ 8D
Route Followed: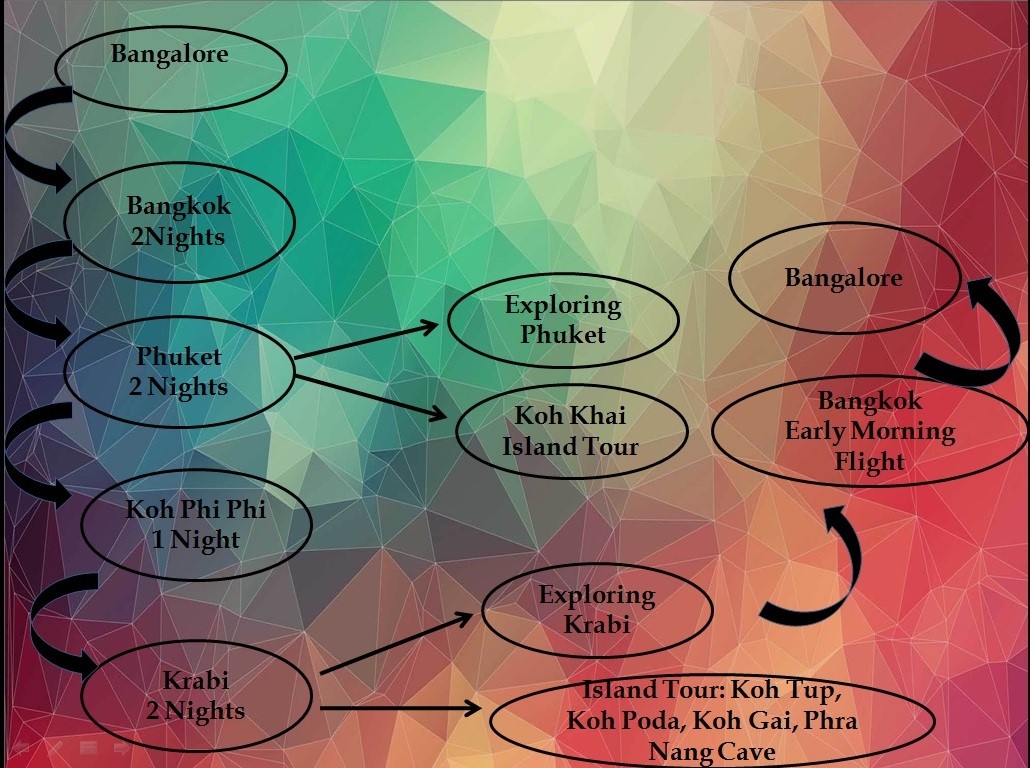 Bangkok
So here it is-our Island Hopping Itinerary for Thailand. There are more than 300 islands near and around Thailand and visiting each one of them is not possible until and unless your boss gives you two months off as an incentive for your hard work. The land of free people- Thailand, is a beautiful country and is exposed to be explored. Without wasting any further time, we would start with our planning and execution in detail.
So, like we have mentioned in our Backpacking hacks 1 and Backpacking Hacks 2, we did a lot of research and read several blogs before planning our itinerary. Since we had only 8 days to explore the land, we decided on the major cities and made a list of islands we wanted to explore. There is a lot of information on the internet about the same. At one point, it seemed impossible to select the islands, but then we watched the vlogs and decided to explore Khai Islands (Khai Nui, Khai Nai, and Khai Nok). Other than that Phi Phi Island was a must and lastly, we decided to explore Koh Tup, Koh Mor, Koh Gai (Chicken Island) and Koh Poda. We had read about the crystal-clear water and the wide variety of marine life found there. Also, these islands are known to be less crowded.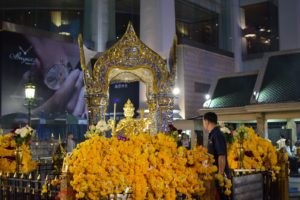 We started from Bangalore early in the morning. Having a connecting flight from Kolkata, we reached Bangkok by 5:00 PM and took the Airport Rail to reach our place of stay. After relaxing for some time, we decided to check out the market nearby and clicked some beautiful pictures (to have a glimpse of the same, check out our Instagram Account- @footloosebackpackers). Post dinner, we went to Erawan Shrine, Hua Lumphong Temple and the statue of Lord Ganesha and the Goddess in front of Central World Ratchaprasong Intersection. These three places can be seen in the night as they look magnificent when they are lit up.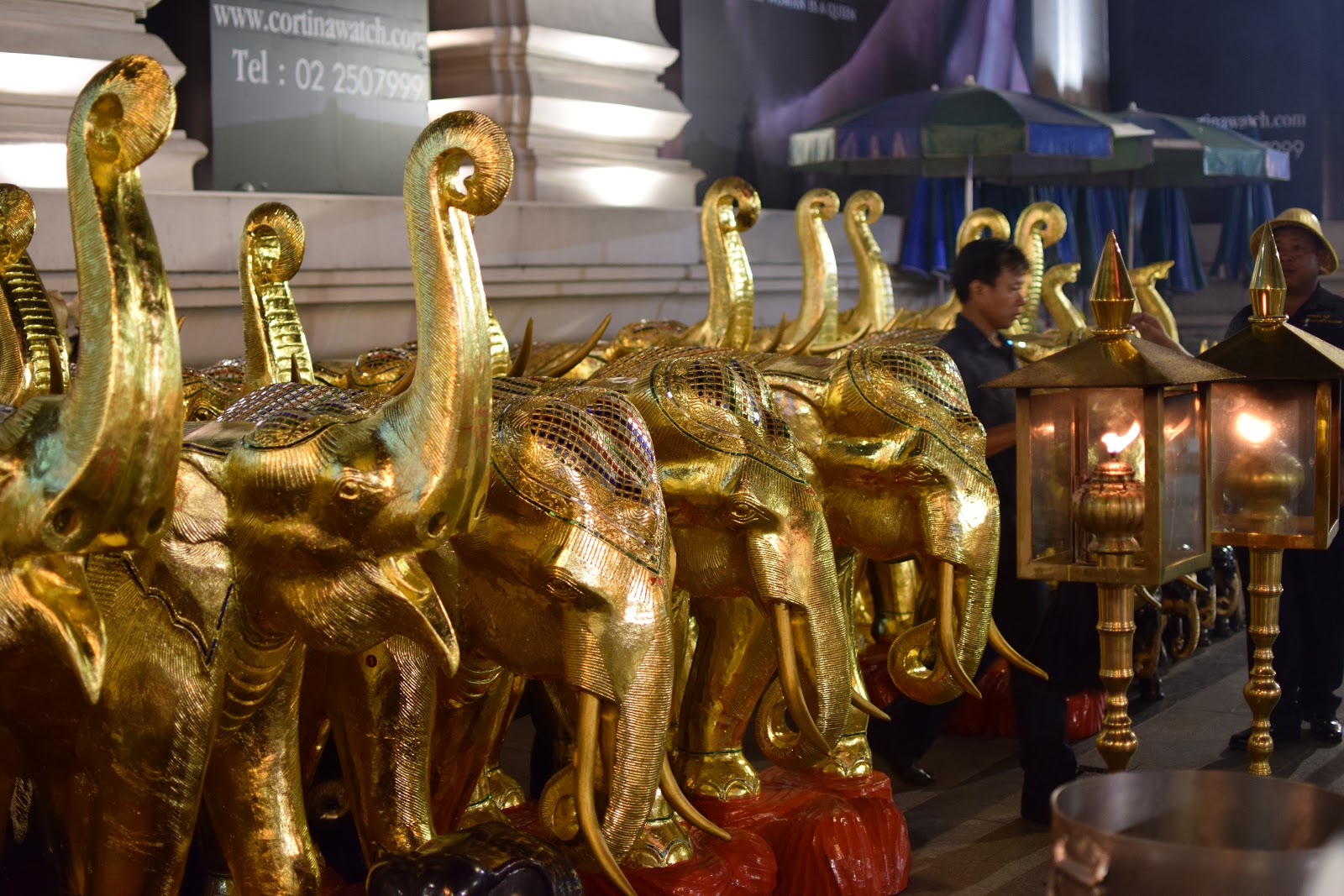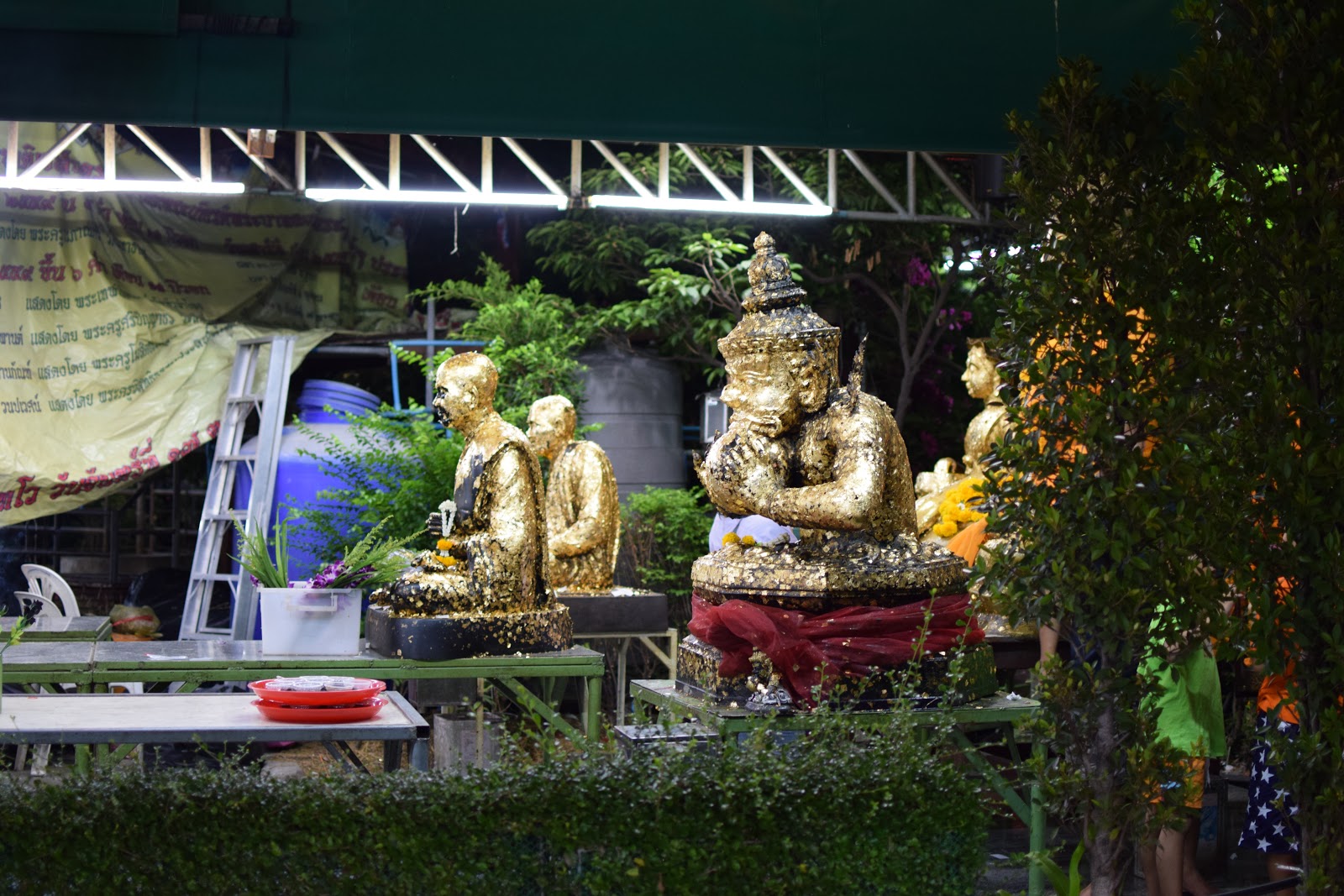 Hua Lumphong Temple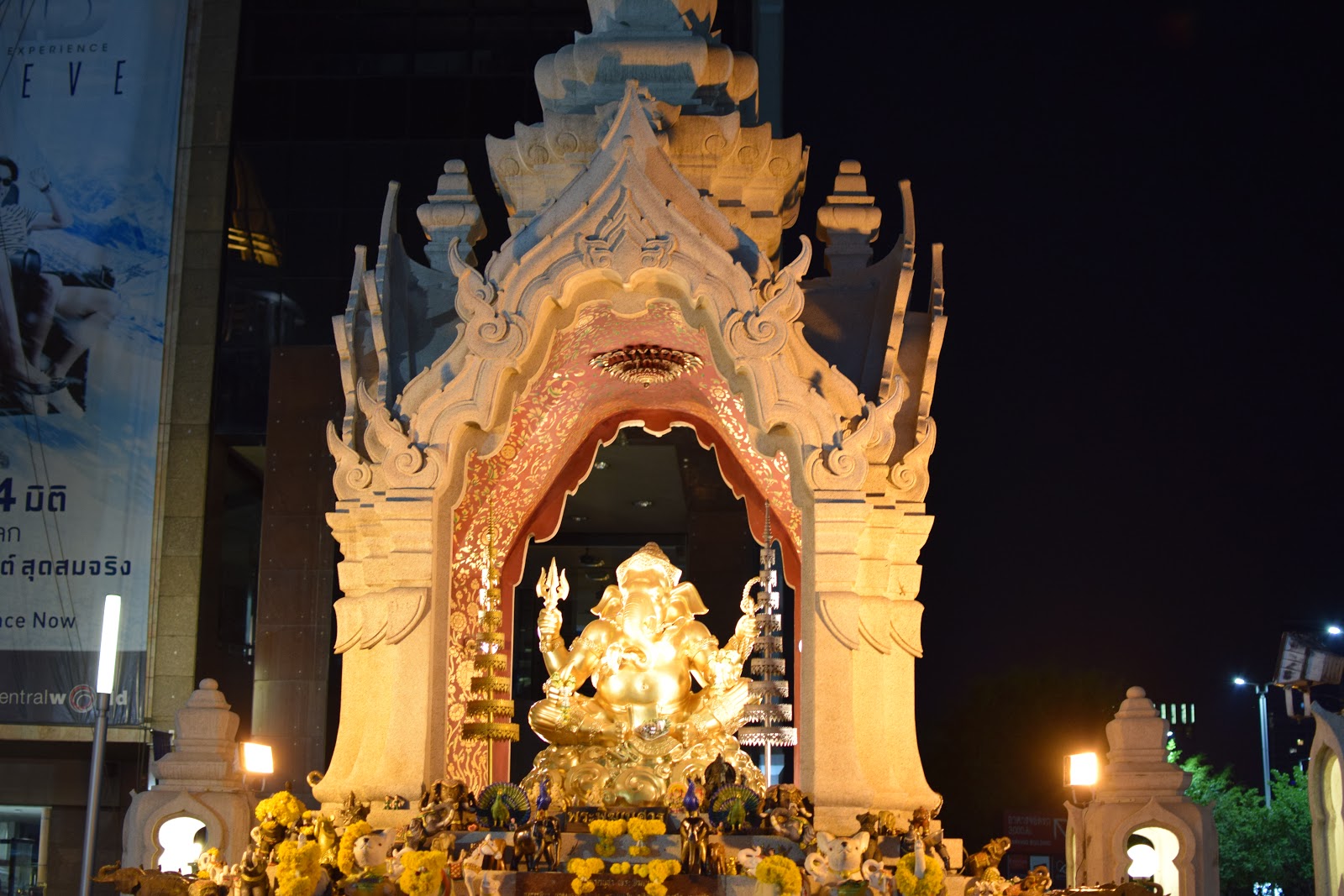 The statue of Lord Ganesha and the Goddess in front of Central World Ratchaprasong Intersection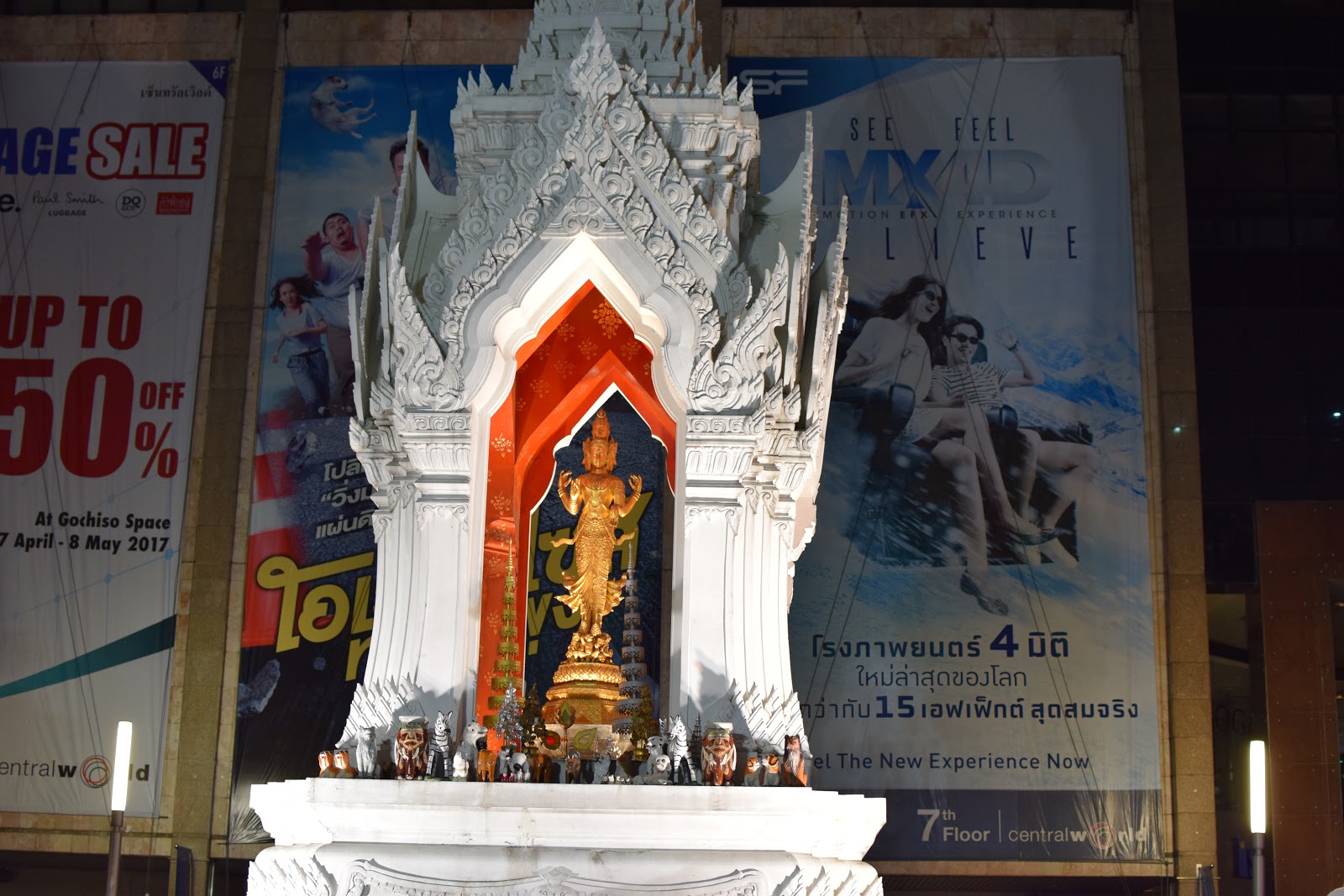 The next day, which was supposedly our last day in Bangkok, we decided to appreciate the rich architecture of the city and visited The Grand Palace, Wat Pho, Wat Arun and Wat Phra Kaew. We kept Siam's Ocean World and Madame Tussauds for the evening.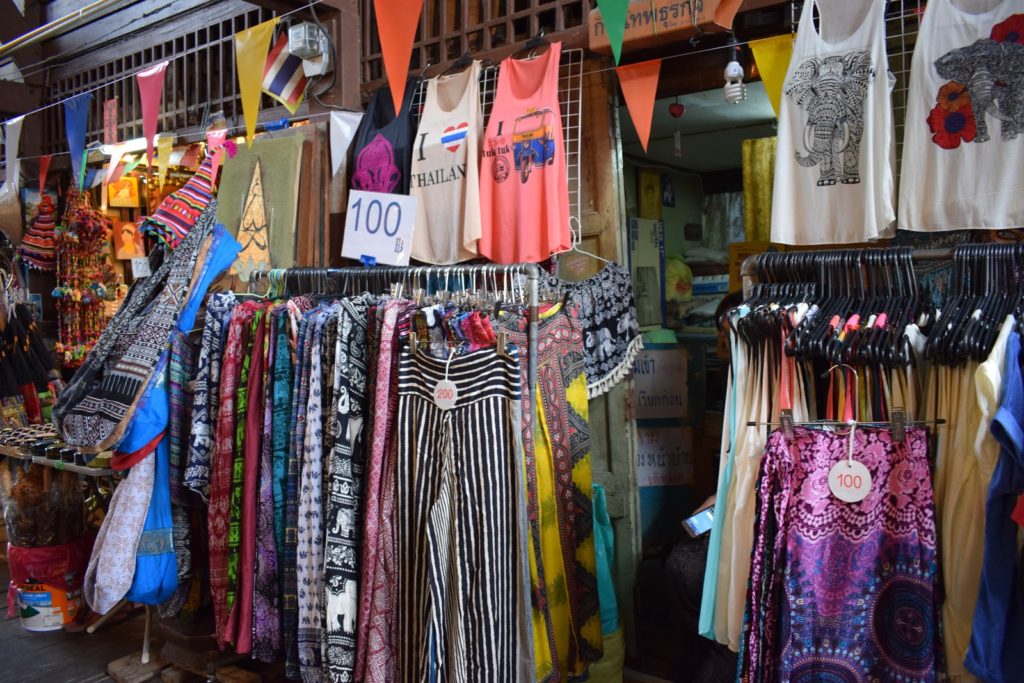 Market near Tha Tien Pier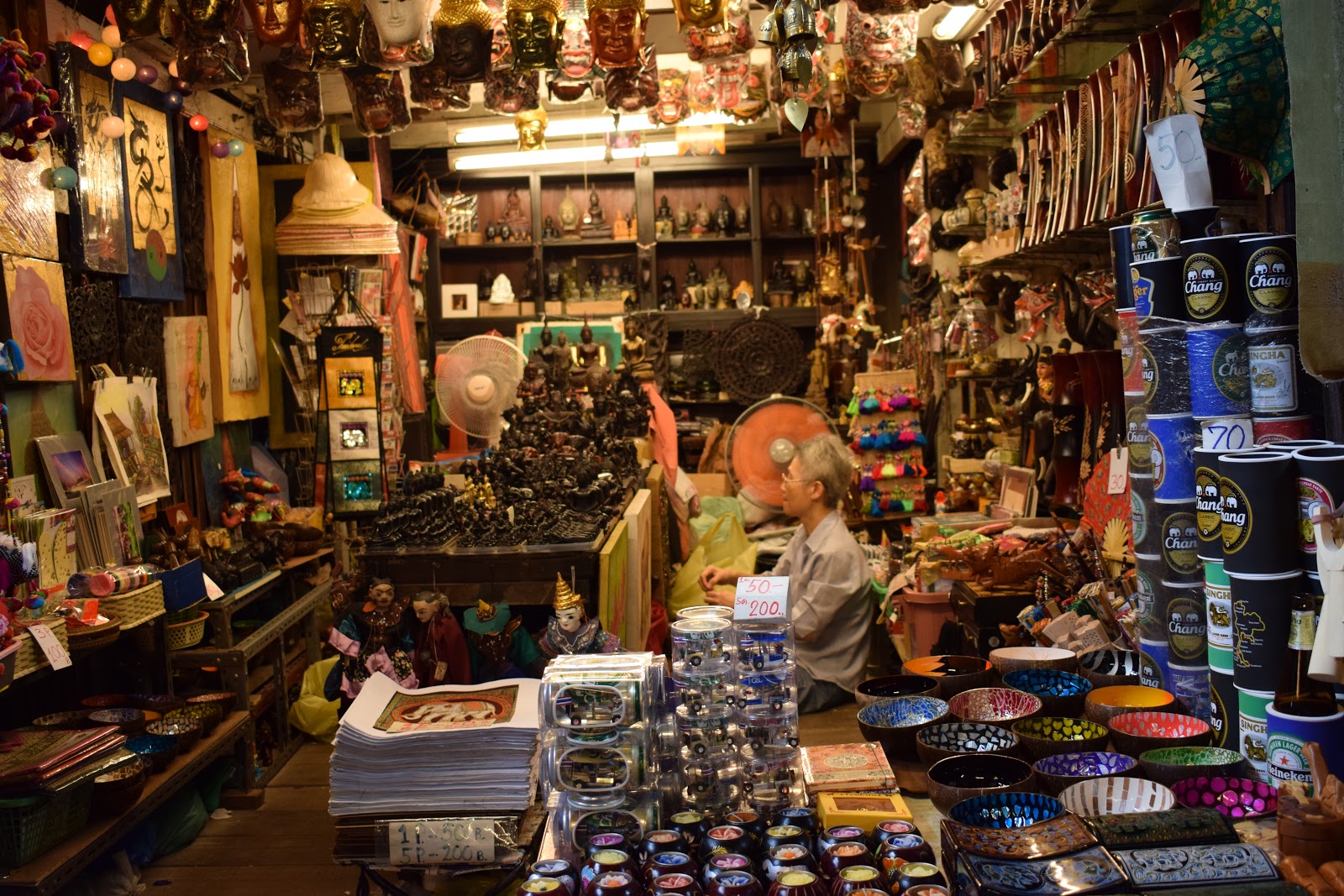 Market near Tha Tien Pier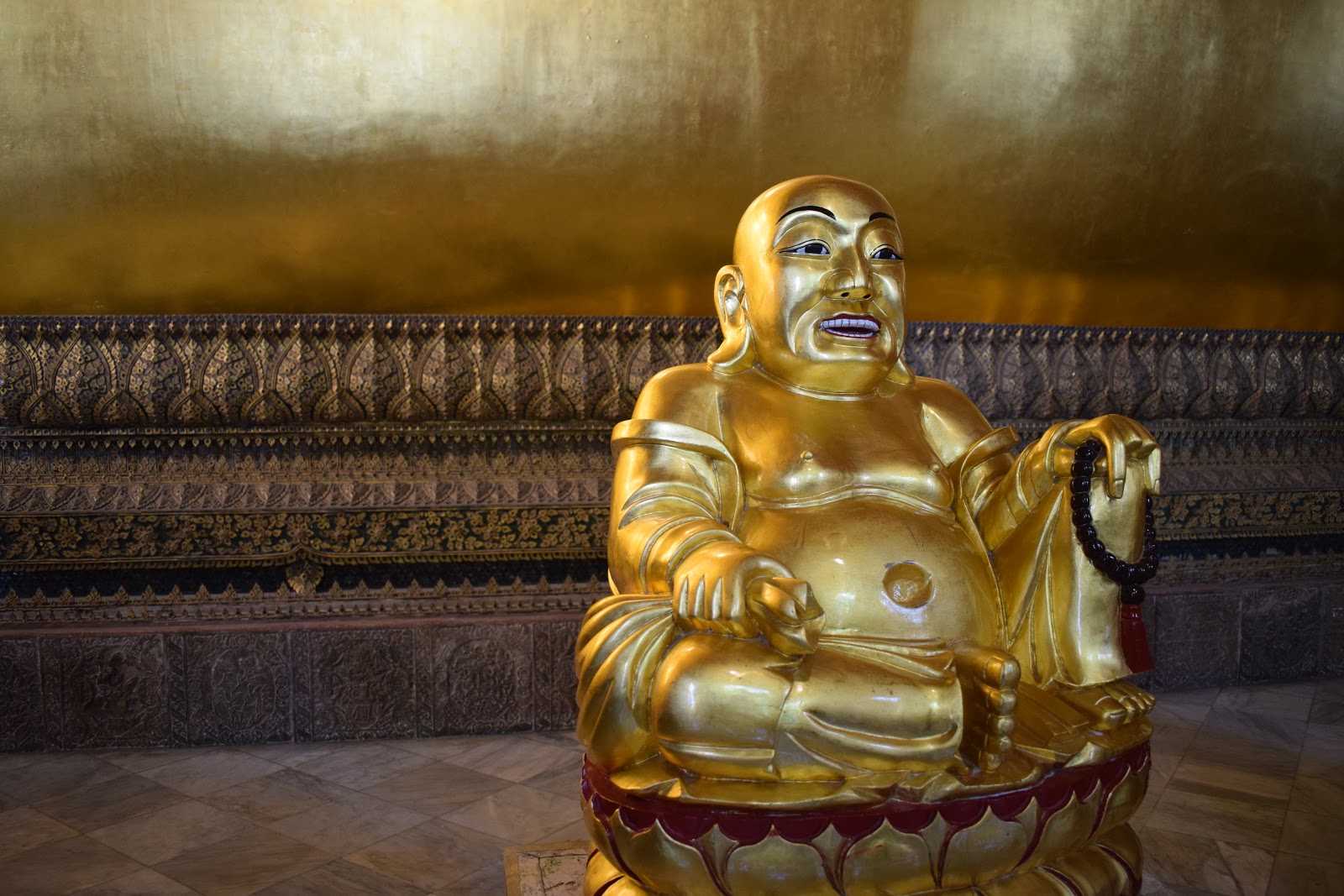 A tiny statue of Laughing Buddha in Wat Pho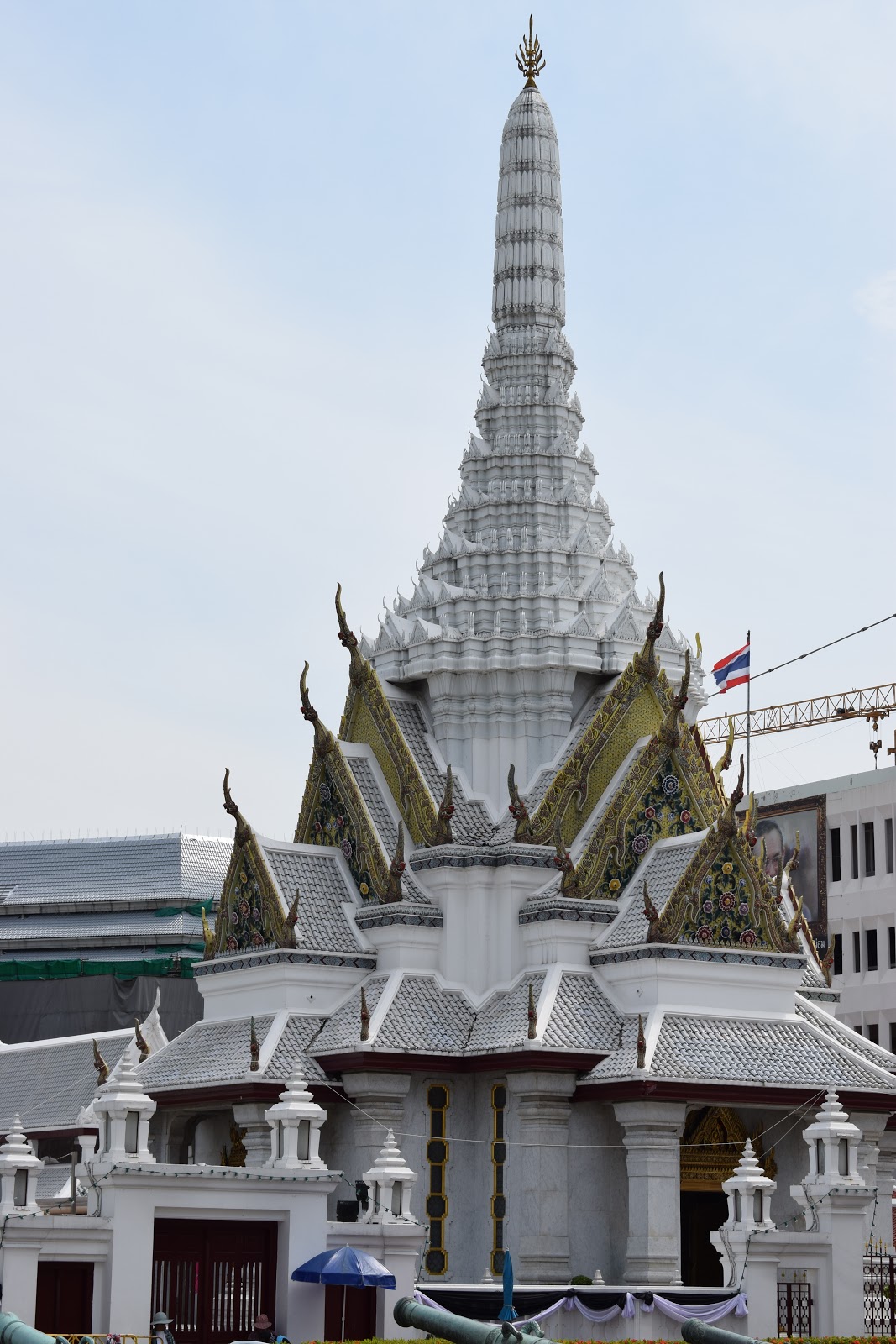 POV: The Golden Temple Gate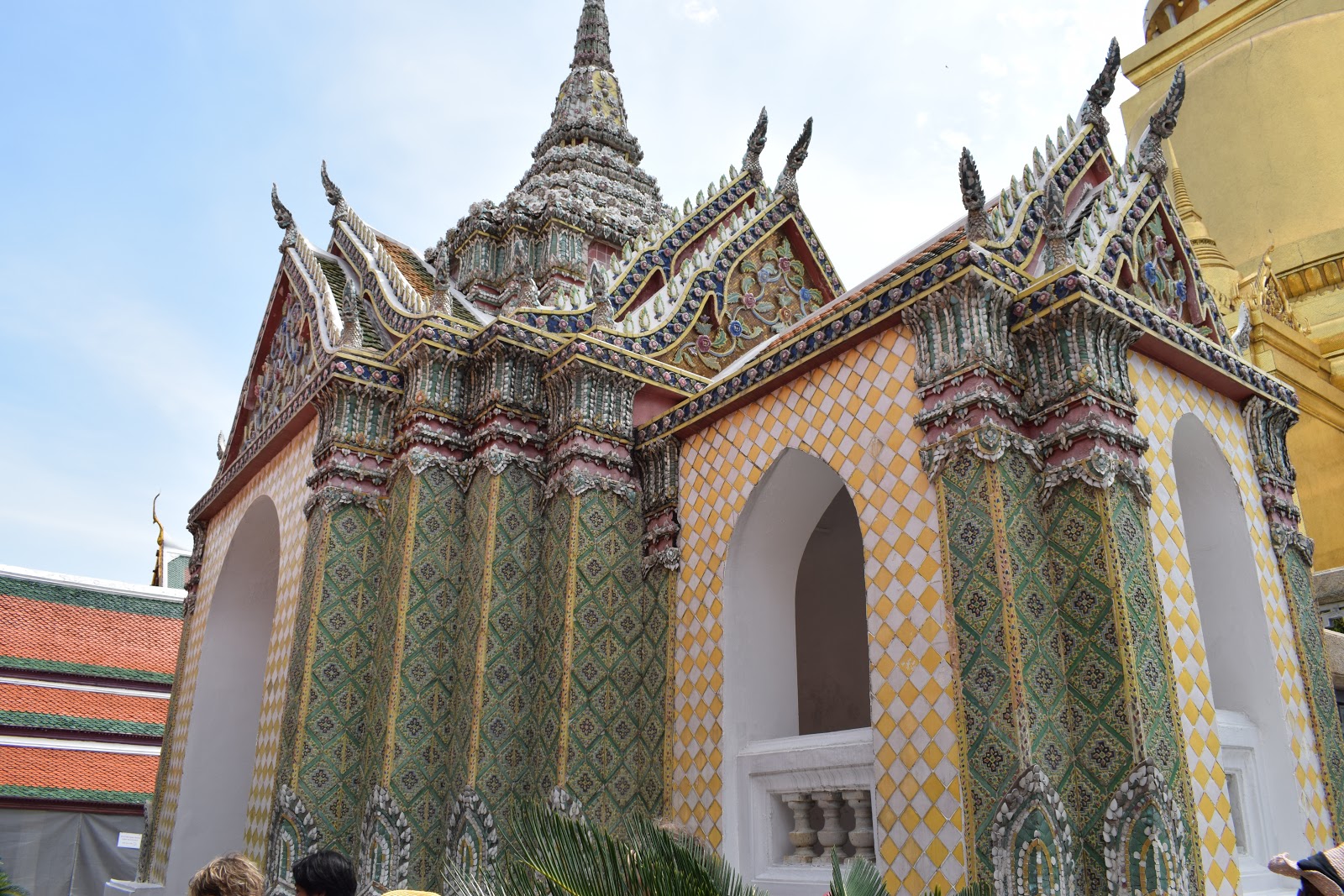 One of the temples 
The details (Ticket price and timings) are mentioned below. For other details, check out our detailed post on exploring Bangkok in Two days (Click Here).
Madam Tussauds and Sealife Ocean World can be visited by buying combo/ early-bird tickets from the following website:
https://www.madametussauds.com/bangkok/en/tickets/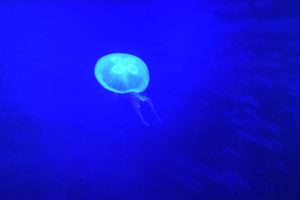 A combo package will include the ticket to Ocean World, Madam Tussauds, Complimentary Photo, Wax hand, Glass Boat Ticket and a gift from Ocean World. Other details can be obtained from the website.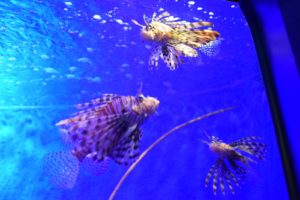 Another cheaper and more comfortable option is to download the KLOOK app and buy combo tickets from there. We bought a combo pack for 880 THB/ person. Cheap, isn't it?
Phuket
We were scheduled to fly to Phuket on the third day of our trip. Landing at about 11:30 AM in Phuket, we booked a taxi to our hotel (Sinu House Hotel), which was located near the Rassada Pier towards the eastern side of Phuket Town. Refreshed and all enthused to explore Phuket, we started for Baan Teelanka where the infamous Upside Down House, The Tree House, and The Maze are located. Honestly, all three places were not worth a penny. Upside Down is super confusing as one cannot decide the pose for clicking the photographs at a right angle. The Tree House is not something great. And the Tree Maze is a namesake. It hardly took us 5 minutes to finish the maze.
The details (Ticket price and timings) are mentioned below. For other details, check out our detailed post on exploring Phuket in Two days (Click Here).
Places to see in Phuket: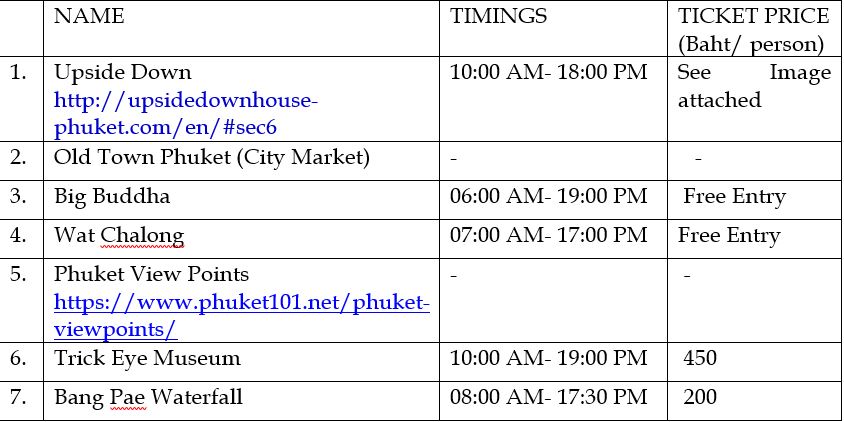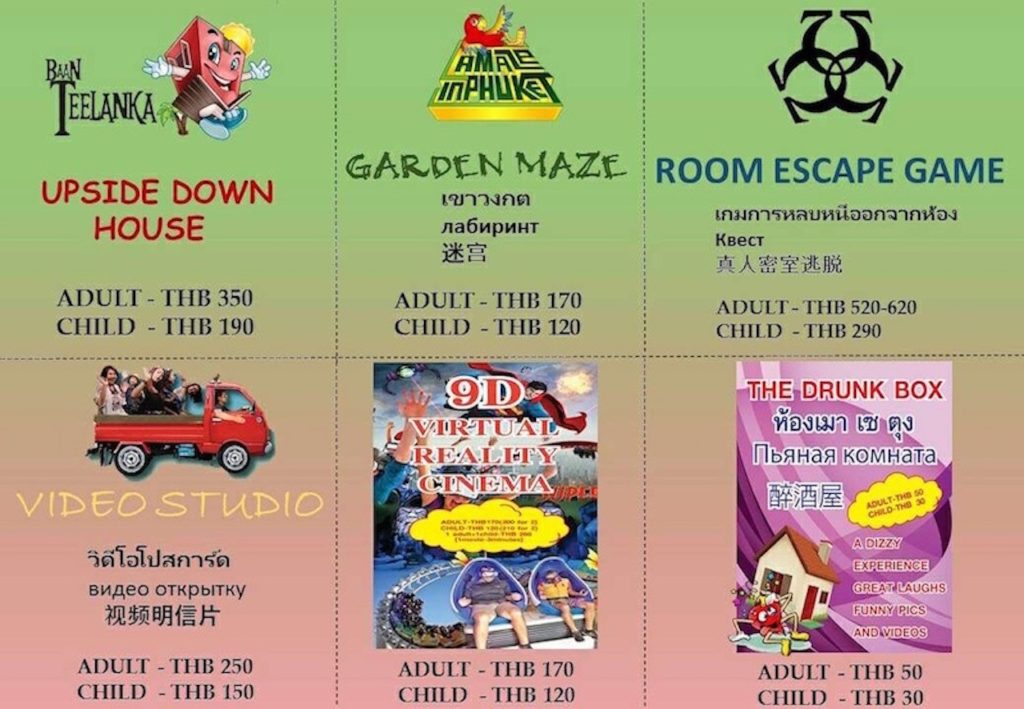 Since we had planned to stay only for two nights in Phuket, we tried to cover Upside Down, Tree House, Maze, Big Buddha and Promthepe Cape View Point on day 1 and Trick-eye Museum on day 2. We spent most of our time on day 2 at Koh Khai Islands.
We booked the Island Tour online one day before. The package details are mentioned below: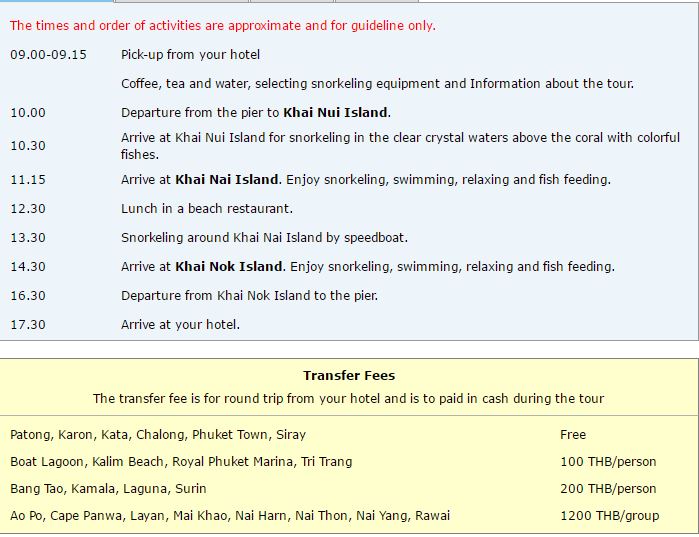 Koh Phi Phi Don
Phi Phi Don Island is well-maintained and to keep the lush green flora and crystal blue waters clear, the management charges 20 THB/ person from every tourist before letting them enter the island.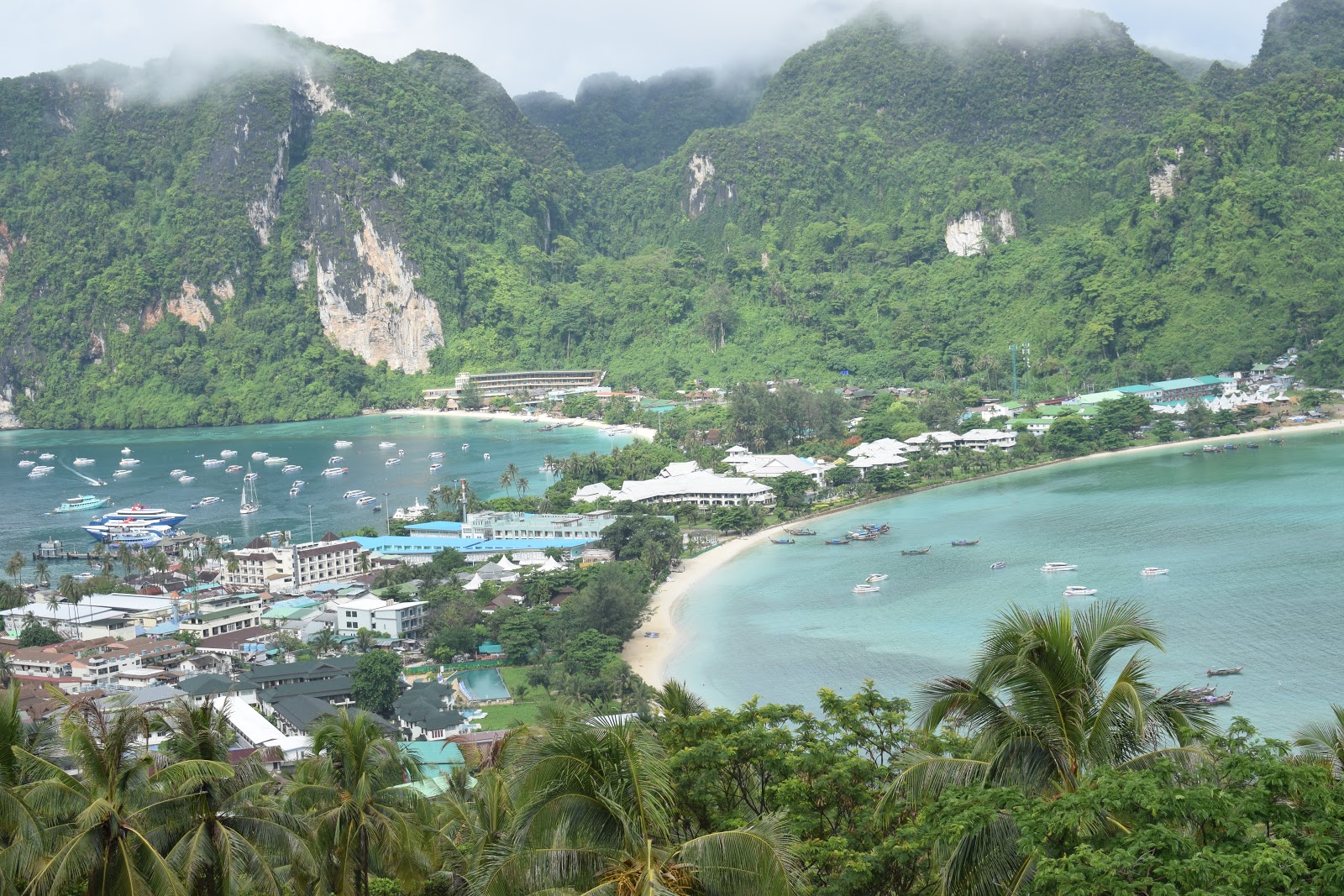 On the morning of our 6th day, we had book a ferry to Koh Phi Phi Don and luckily that ferry turned out to be a mini Cruise. We left at 9:00 AM and reached Phi Phi Islands by 11: 00 AM. The two-hour journey in the ferry was splendid. There was nothing much to enjoy inside the seating chamber but the view from the deck was amazing. These pictures will speak louder than what we will describe in writing. A day in Phi Phi is more than enough to explore the island. We won't say it is a small island, but it can be explored on foot and at the same time one can have a relaxed stay in the hotels too. The place offers Live Jazz Music in the evenings with delicious seafood. From street food vendors to good restaurants, this island has everything. There is a big market with shops selling souvenirs, antics, paintings, liquor, glass showpieces, clothes, snorkeling gears, caps, mobile covers, dry bags, and groceries.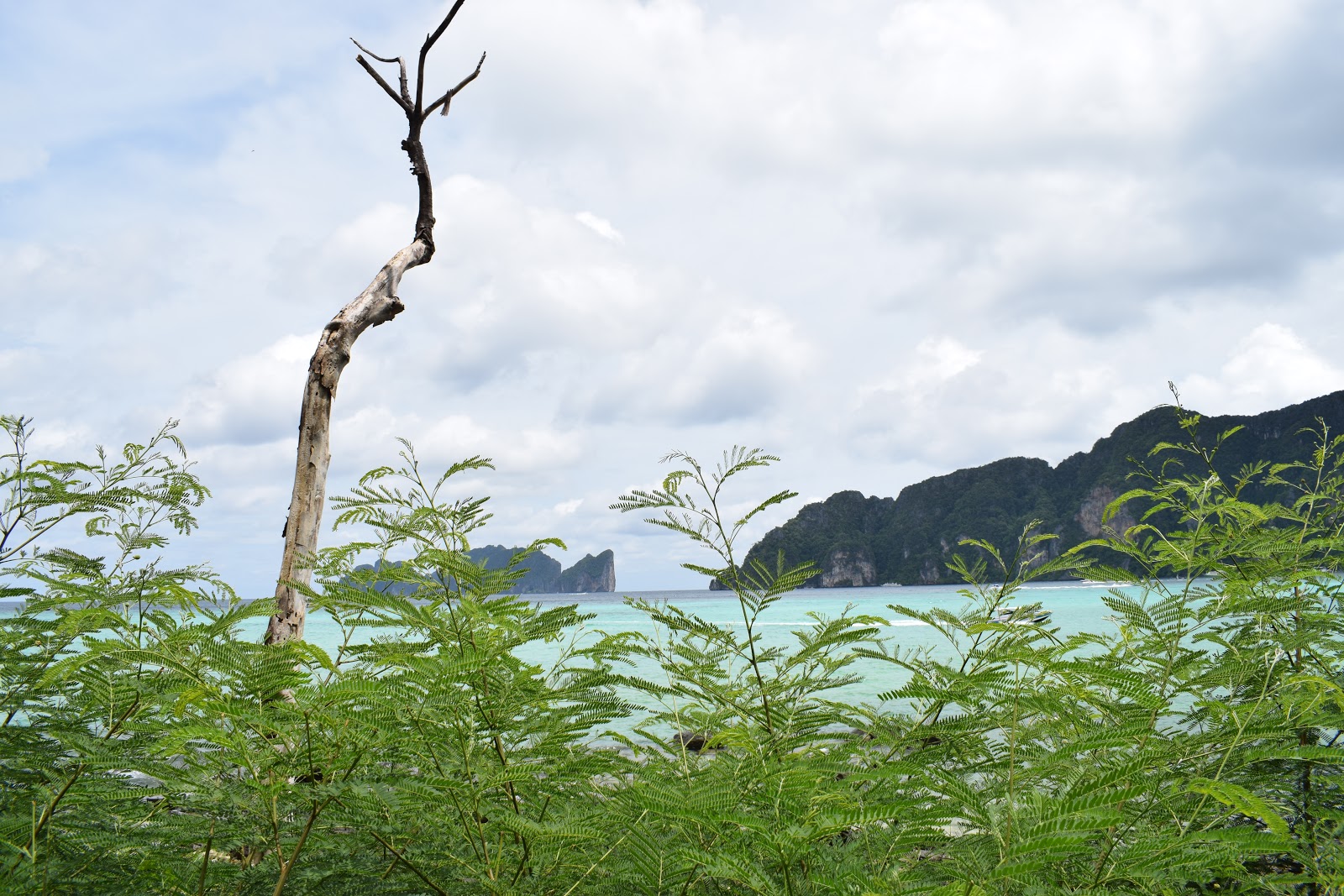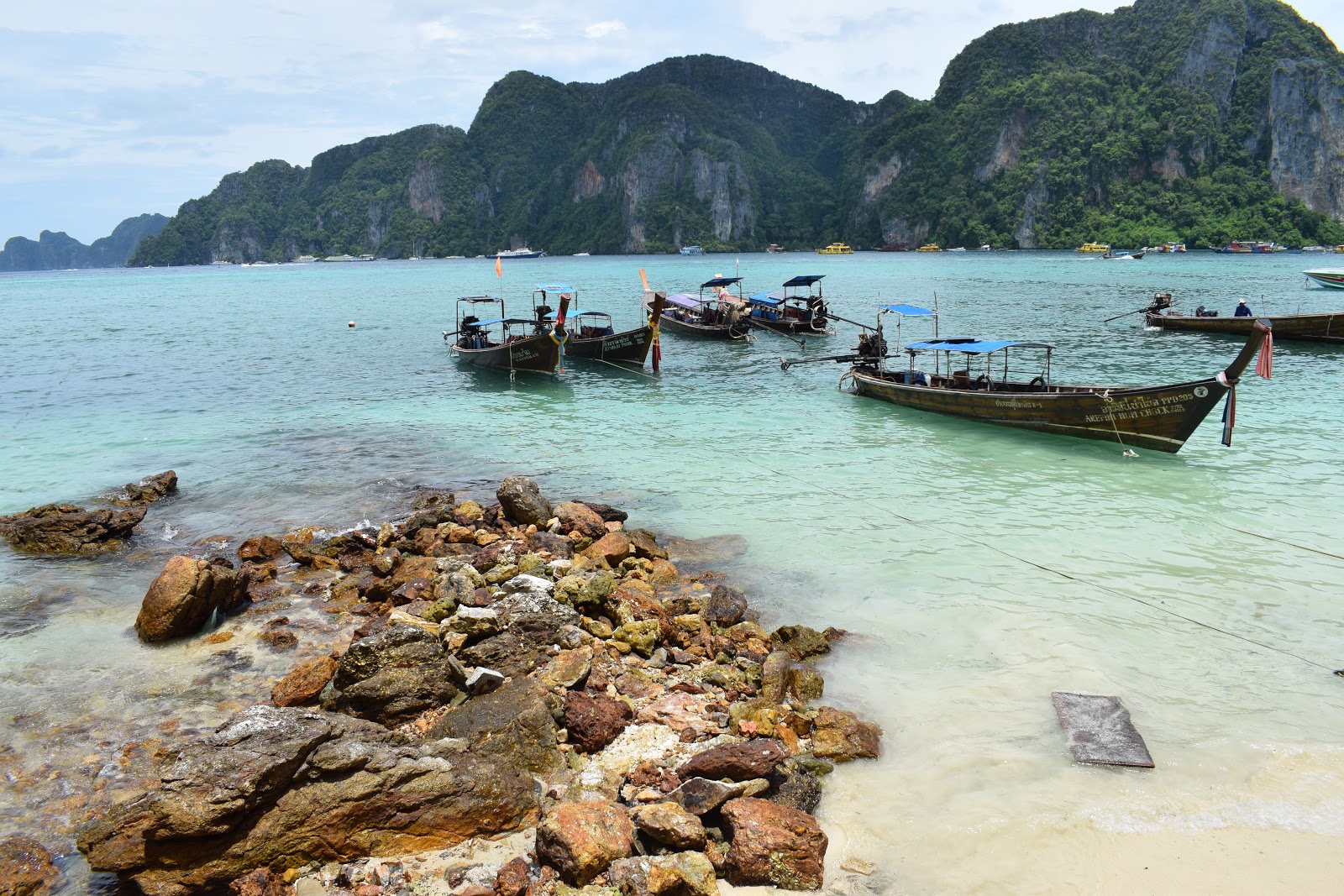 On the same day, we trekked towards Long Beach and clicked some good photographs there. The trek is not at all difficult as a nicely paved path helps you move forward smoothly. The evening was reserved for a lavish back and neck massage, sumptuous dinner along with live music and shopping plans.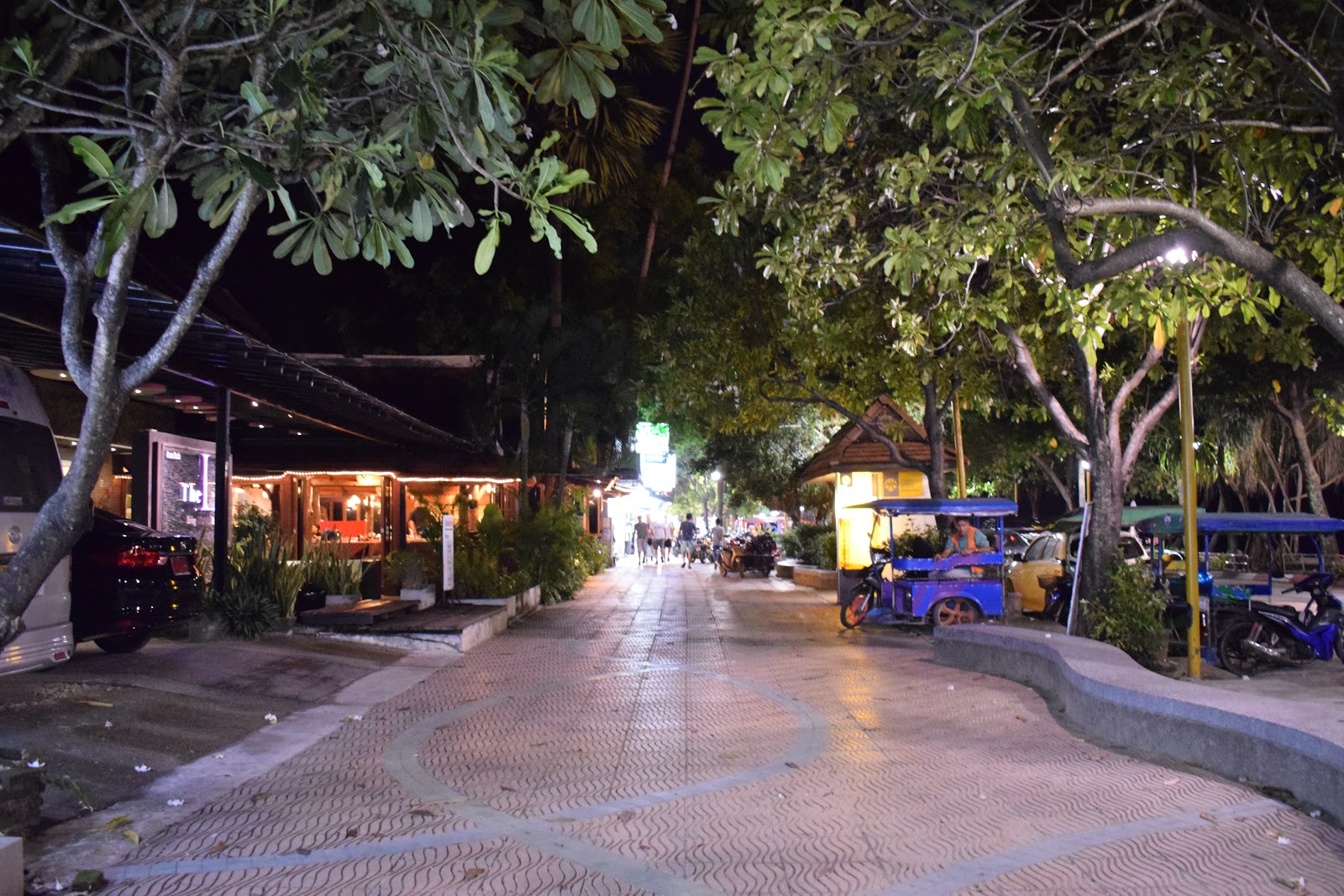 The paved aisle in Koh Phi Phi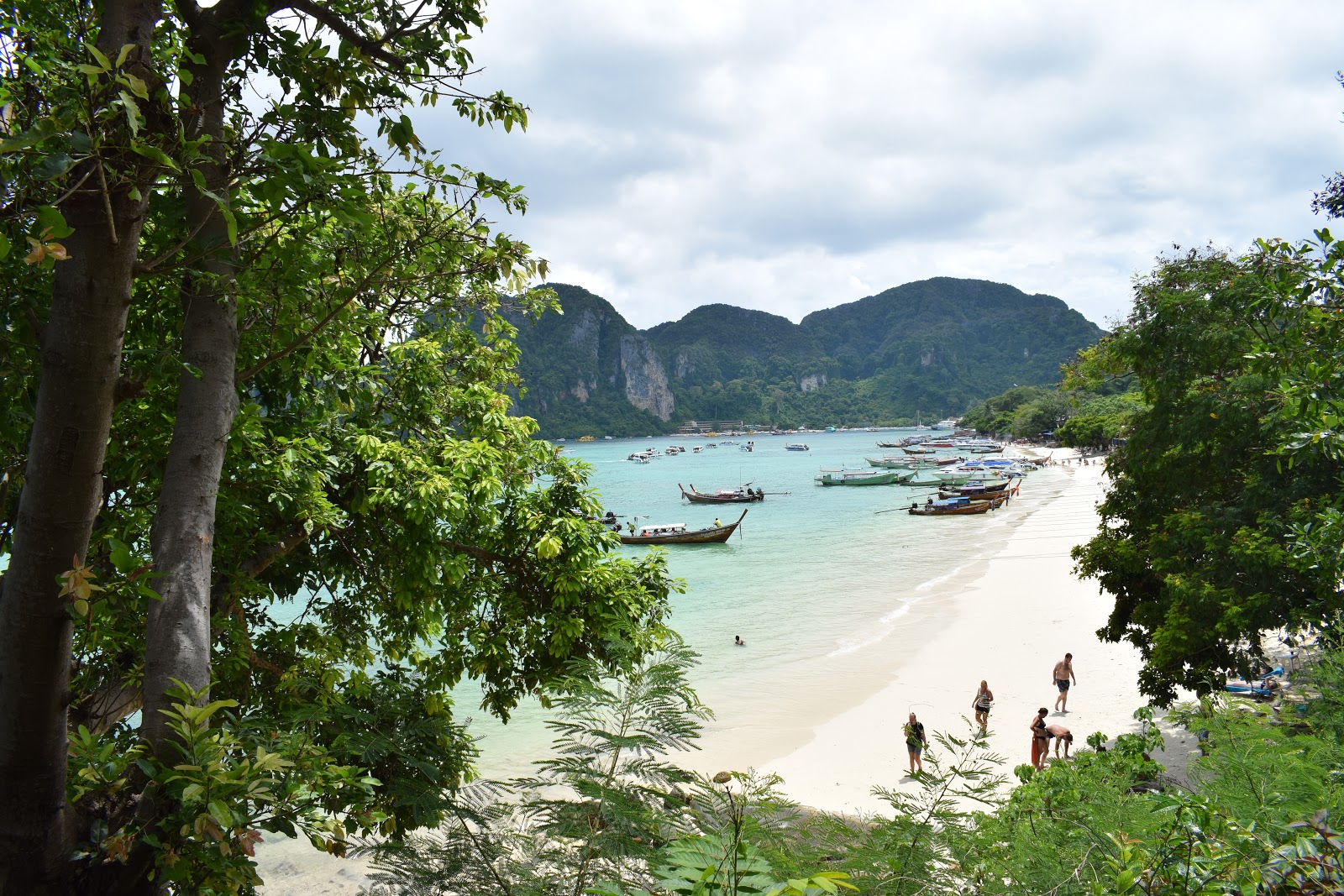 Long Beach, Koh Phi Phi
For the next day, we had booked a ferry to Ao Nang and it was scheduled to depart at 15:30 PM. Since we had the morning to ourselves, we decided to trek to the Phi Phi viewpoint early in the morning (at around 07:30 AM). The trek to Phi Phi View Point is not a child's play. A long pathway, more than 300 steps and a walk for 1km on an inclined path is what it takes to reach the top. But the effort is worth a shot, for the view from the top is mesmerizing.
A detailed itinerary for Koh Phi Phi can be found here.
The next day, we had planned on going to Ao Nang. We preferred Ao Nang over Krabi because the former is the hive of activity. Ao Nang has an enormous market and eating joints and the best part is that there are restaurants that offer Indian food (trust us, this place has some of the best Indian Restaurants and the food offered is piquant).
Ao Nang
On our 6th day of the trip, we booked a ferry to Ao Nang from Koh Phi Phi. It was a mini cruiser (more like a huge speedboat). Luckily, we got the free pick-up option both ways. There are many websites that offer this service and if you are staying in close proximity to the pier, the companies would not charge anything for the pick-up. To add on, this is the most convenient option available otherwise you will have to spend a fortune on cabs via Grab or Uber.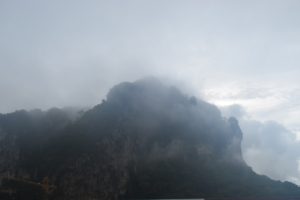 We were booked in The Nine Hotel, Ao Nang. Though there was no lift in the hotel, the location was pretty decent as the street market was just steps away. For a detailed Hotel Review, check out our post on 'Travel Options and Finding Accommodation in Thailand'. We reached Ao Nang by 05:00 PM; the two-hour speedboat journey was a little tiring but the mesmerizing views added up to our energy levels. Our Drop off was scheduled from the Pier (Nopparat-Thara Pier) to The Nine Hotel (this was included in the speedboat ticket- another reason to stay in Ao Nang is that you get free pick-up and drop off).
Having reached our hotel, we settled on relaxing for a bit and then exploring the nearby market. Ao Nang has a lot to offer: The Ao Nang mosque, numerous 7 to 11 stores, family marts, the street market that offer plenty souvenirs, beachwear and other antics, massage parlours, and food joints that offer Live Music.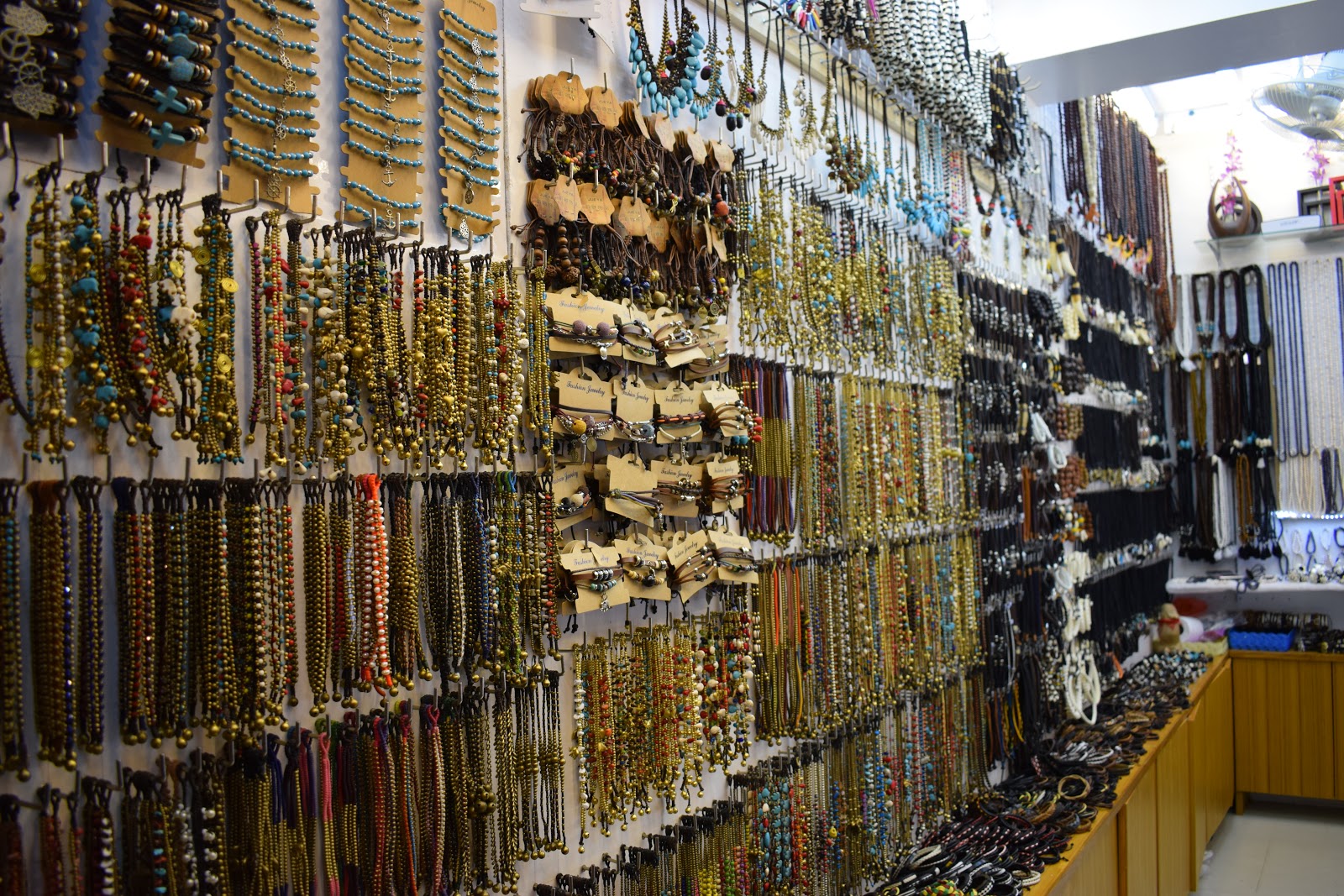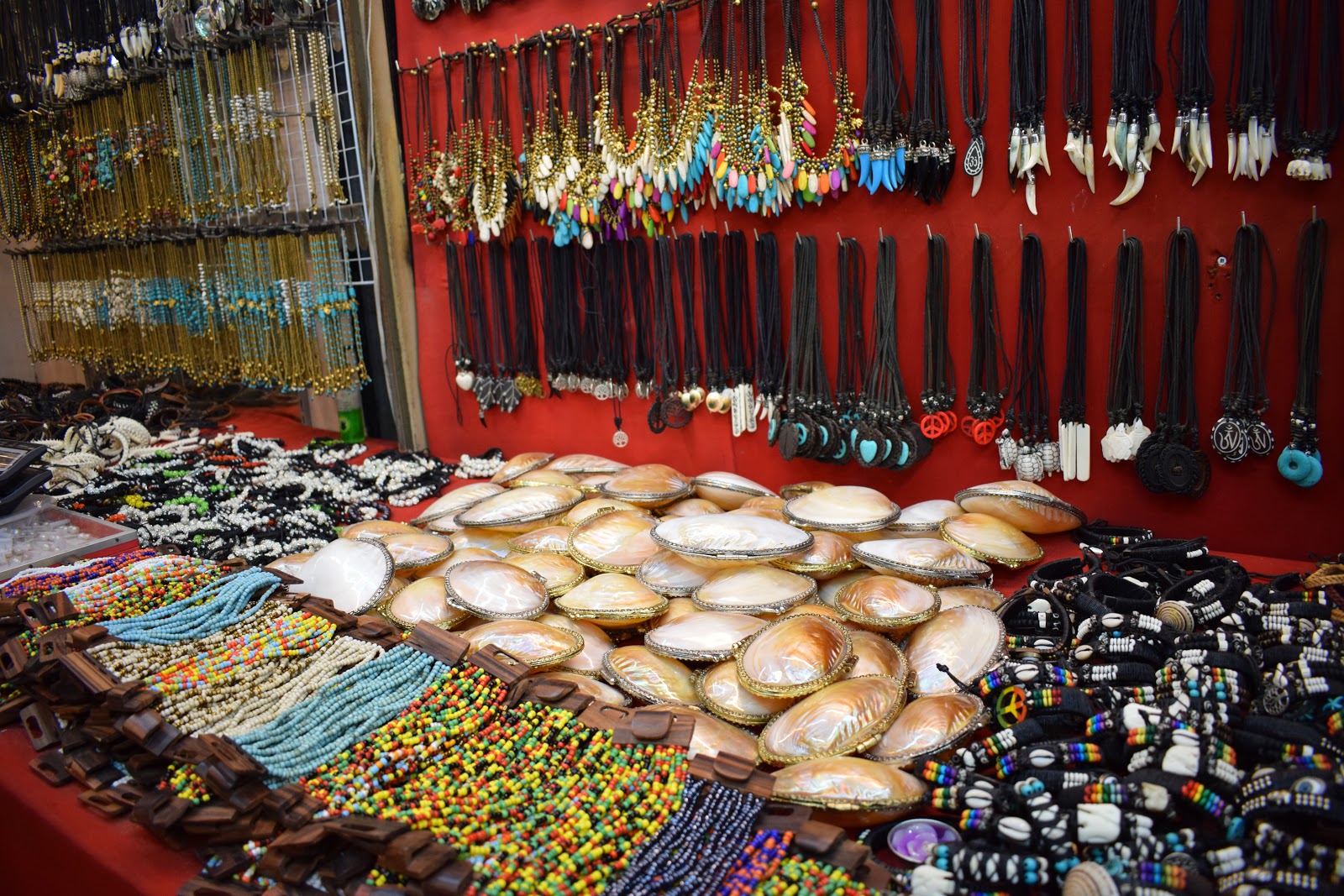 Shops laden with precious stones and glittery jewels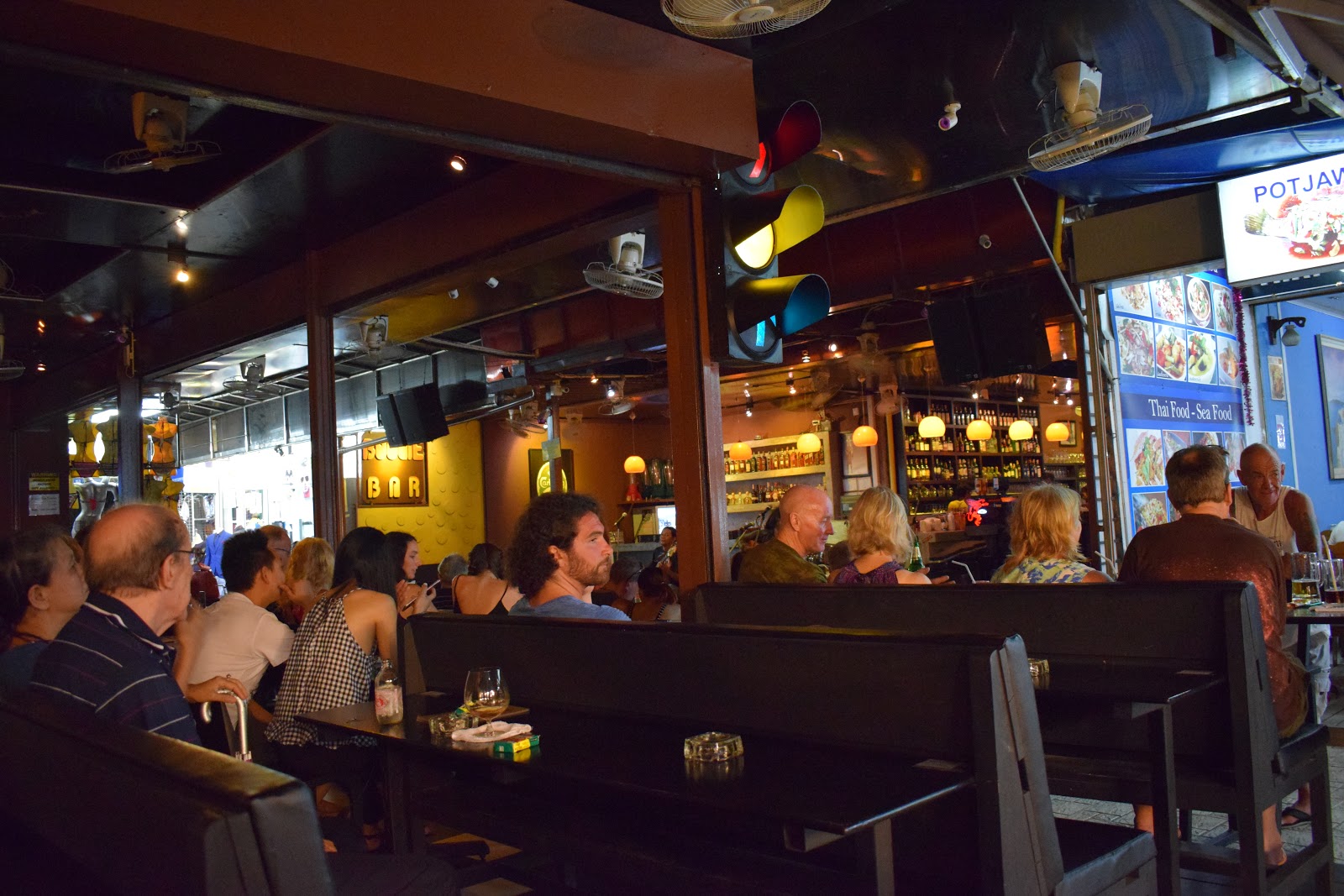 Restro-bars with live music and delicious food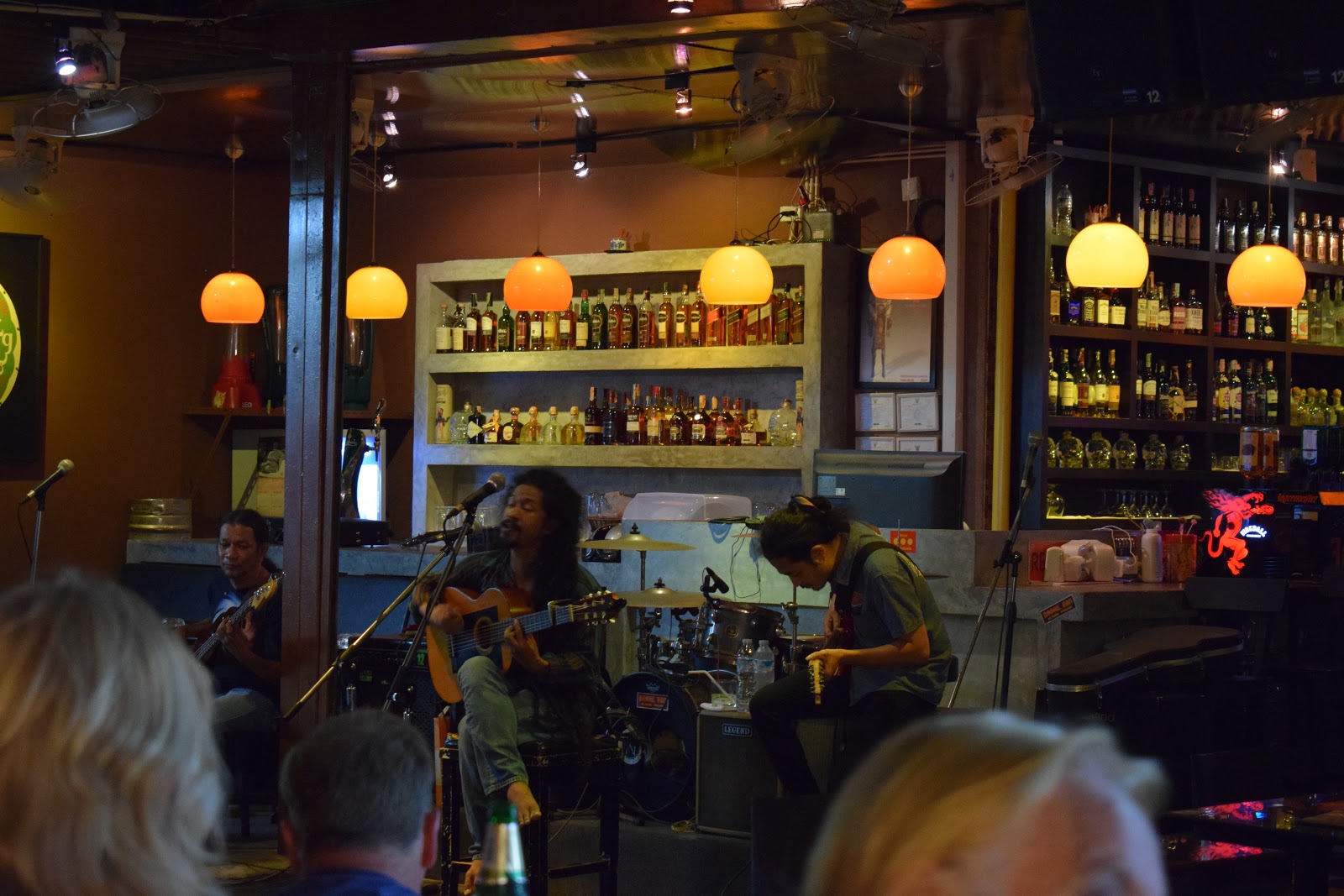 For the next day, we had booked the most famous 'Four Island Tour'. We booked it through KLOOK app and got a great deal. The tour gave us an opportunity to see four Islands (Koh Tup, Koh Mor, Koh Poda and Koh Gai (Chicken Island)) and Phranang Caves. The water surrounding the Phranang caves was slimy and full of debris but the caves were worth a visit. In our brown long tail boat, we sailed towards another Island and midway our guide halted for snorkelling. The water was too slimy and green to see the corals. After this, we headed towards Koh Poda; the island is characterized by lush green flora and just one food stall that offers ice creams and soft drinks. This island is the largest of all the four islets in the Poday Group Islands. A long sandy beach of about 1 km lined with tall shady Pine Trees is what Koh Poda is all about. The sea is exceptionally clean and is suitable for swimming too; it has plenty of coral reefs to appreciate.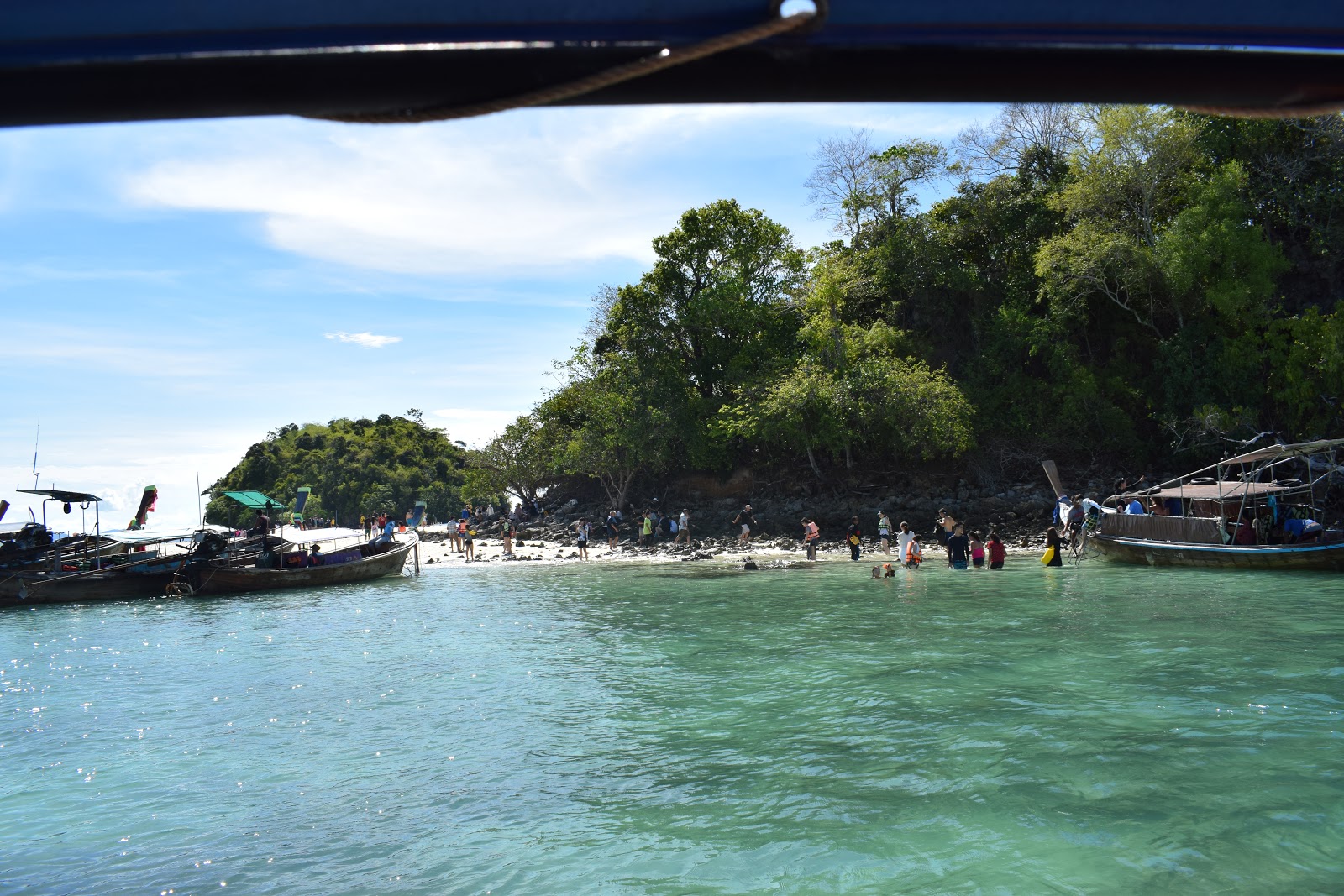 Koh Tup and Koh Mor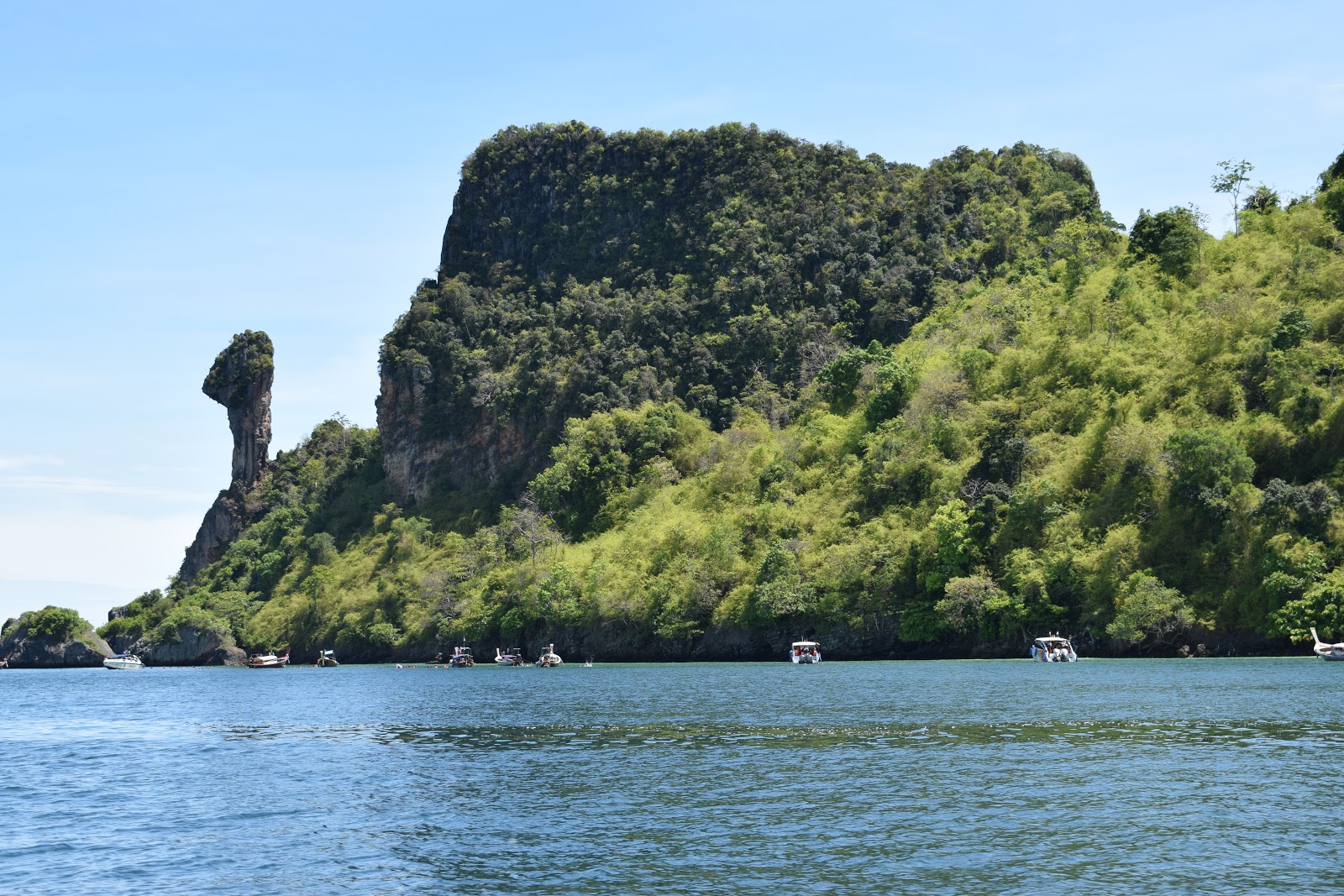 Chicken Island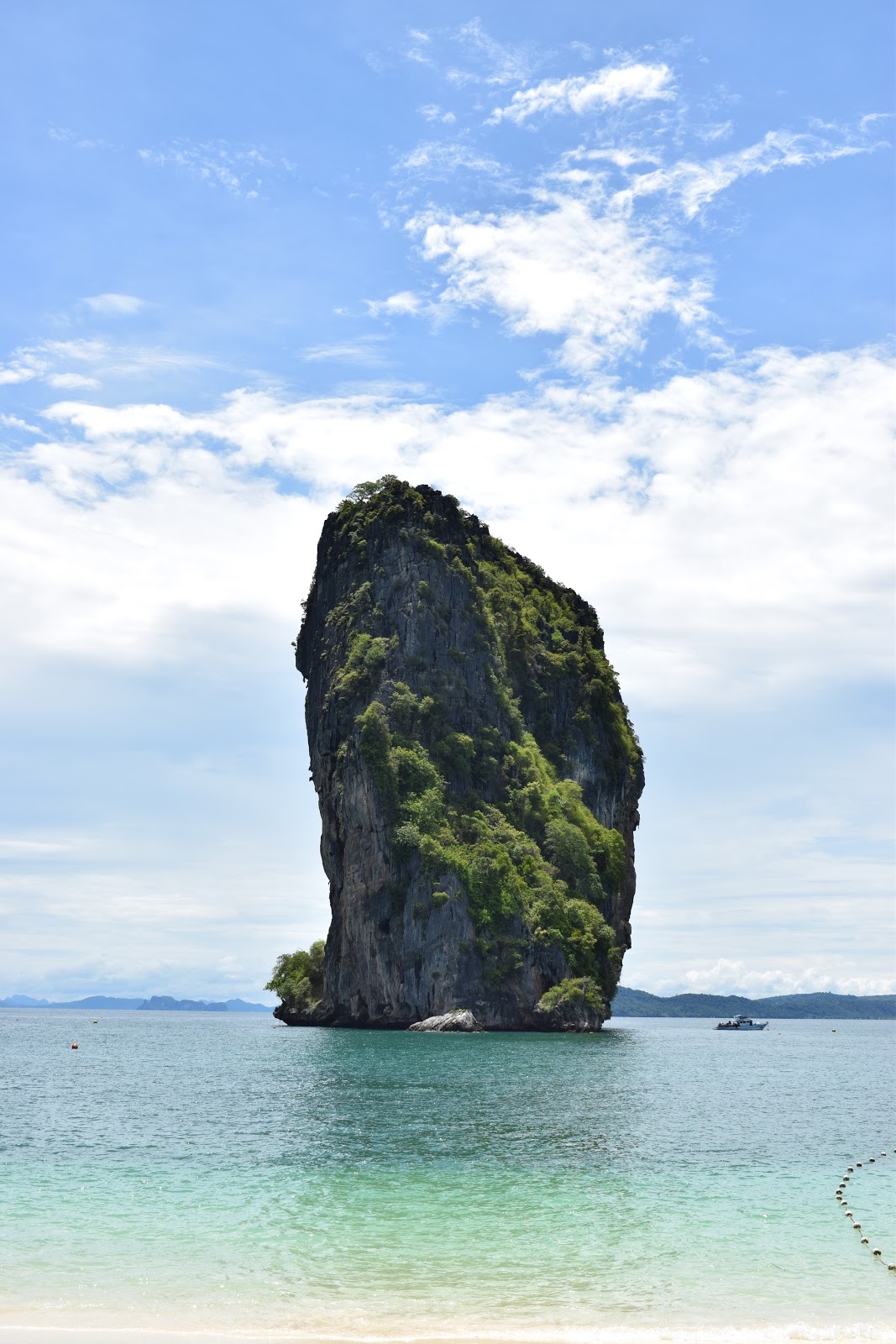 Koh Poda
Next on our list was Koh Gai (Chicken Island). This island doesn't have a beach but the name has been rightly derived. It definitely looks like a chicken. The guides generally stop the long tail boat at an angle and allow the people to click photographs.
Following Koh Gai, Koh Tup and Koh Mor were next. About 100m in diameter, these two islands are located very close to the Chicken Island. They are joined by a sandy bank called Talay Wak. At the time of low tide, you can walk freely on this strip of sand and move from one island to another. Even during the high tides, the water level is knee deep. The water has colourful fish in abundance and they can be spotted without even getting into the water.
Details of the Four Island Tour (how it is executed)
08:30- 09:00 AM– Pick up from the hotel
09:00- 10:00 AM– Waiting at the meeting point and then getting divided into groups. The guide is assigned and the instructions are given.
10:00-11:30 AM– Reaching Phranang caves and exploring the caves (There are toilets there, but you will have to pay 10THB/ person) The water is slimy and not suitable for a swim. According to a legend, Phra Nang was an Indian Princess who was killed in a shipwreck. In another tale, Phra Nang was the wife of a fisherman who was lost at sea. She lived out the rest of her days in the cave, awaiting her husband's return. The sailors worship the idol of 'Lingam' and burn scented sticks. We were given 40-50 minutes to explore the caves and click photographs.
12:15 PM– At quite a distance from Phranang is an area surrounded by big rocks. The water there is good for snorkelling or so they say. When we went there, we did not like it one bit. Again, we had 40 minutes for the activity.
01:15 PM– Reach Poda island, have lunch, explore the island, snorkel and return to the boat in 50 minutes. (The lunch is provided by the tour organizers)
02:05 PM– Reach Chicken Island and get photographs clicked.
02:35 PM– Reach Koh Tup and Koh Mor. We were given one hour to explore these two islands and that seemed more than enough. The sweltering heat was somehow balanced by the cool water. At
03:30 PM we were asked to get into the boat and we started for Nopparat-Thara Pier.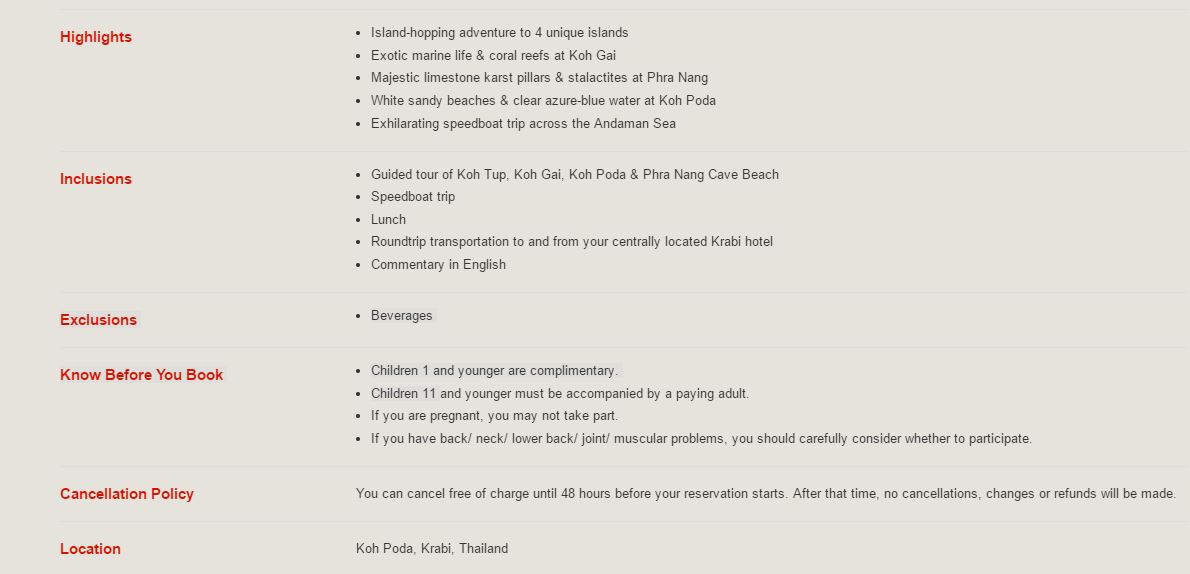 The drop off was ready once we arrived at the shore and we reached the hotel by 4:15 PM. Napping for a while, the last night of our trip was spent in getting the famous Thai massage done and buying souvenirs.
Krabi to Bangkok
We had our flight to Bangkok the next day. We booked tickets for the airport shuttle (priced at 150 THB/ person) and reached Bangkok by 05: 30 PM. We spent some time with our relatives there and then headed for the Suvarnabhumi airport with lots of memories and exhilarating experiences.
One liner for the trip: At the end, we were grinning like a Cheshire cat!
"Travel doesn't become adventure until you leave yourself behind"
Keep Travelling. Keep living life to the fullest!